Why Should You Do Your Yoga Teacher Training in Bali?
The go-to resource to prepare for your yoga teacher training. Find all you need to know about the top destinations and take your practice to the next level.
Discover Yoga Teacher Training now
Unbeatable scenery, authentic yoga vibes, healthy lifestyle, delicious vegetarian options and world-renowned gurus to learn from. Can you imagine a better place to do your yoga teacher training?
Well, that's how a yoga teacher training in Bali looks like – and the good news – it's more affordable than most programs in Europe and the US. That's why it has become one of the favorite destinations for yogis who want to deepen their practice or start a new career as a yoga instructor.
Nothing like the Island of Gods for yoga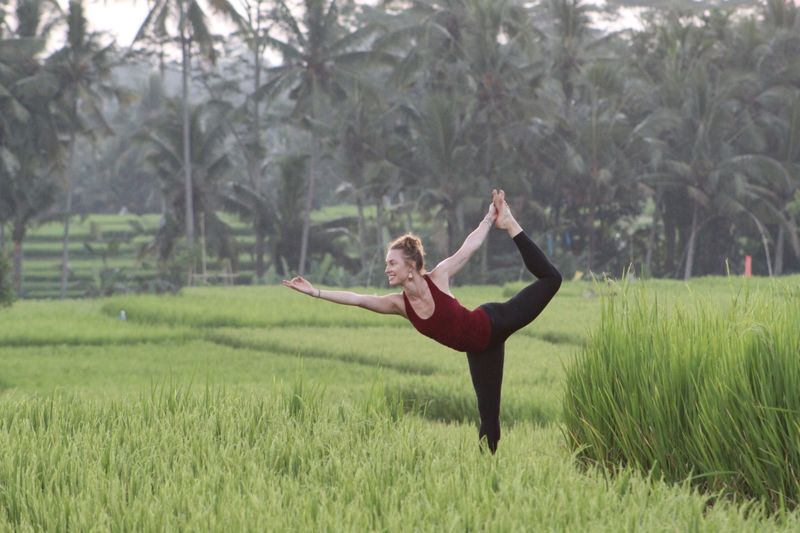 Photo credit: Peak Beings
One of the main reasons why Bali is so popular for yoga teacher training is how well it aligns with the yoga philosophy. It's a wellness hub brimful of tasty options for vegan and vegetarian diets, holistic spas, Ayurvedic centers and more alternatives to help you live a more conscious lifestyle.
The stunning diverse scenery of the island is another big plus. There are plenty of splendid locations for a nice yoga session; whichever landscape you want for your Savasana, you'll get it in Bali. Find peace in the secluded mountains and typical rice paddies of Ubud, relax on the hippy beaches of Canggu, or treat yourself to the splendor and luxury of Seminyak.
Image credit: Joga Yoga
Considering how many hours you have to invest on the mat and all the new things you have to learn, becoming a yoga teacher could feel like a daunting experience. However, Bali's chilled vibes make it easier to enjoy the whole thing. The magic of the island will allow you to embrace the course as if it was solely a nice holiday with plenty of yoga on it.
Top-notch programs without breaking the bank
Image credit: Kula Collective
The Zen atmosphere of the island has attracted dozens –if not hundreds– of world-renowned yoga instructors. Great yogis from India, the US, Europe and many other parts in the world, have brought their knowledge to Bali and share it with the thousands of students who join their courses every year.
The advantage is that, compared to Europe and the USA, the prices are considerably lower. Indeed, 75% of all practitioners who want to become instructors, decide to come to Southeast Asia to take advantage of the more affordable programs. To put it into perspective, there are retreats in Bali for as little as €50 per day, while in the United States or UK it's tough to find something below €70-80.
If you add the tradition, authenticity and quality of the course, it's a no brainer to do your 200-hour yoga teacher training in Bali.
What to expect from your yoga teacher training in Bali?
Image credit: Alchemy Tours
The fastest way to become a yoga teacher is on an intensive retreat where you spend around 3-4 weeks deepening your practice, getting better on the mat and preparing to share this knowledge with more people.
To get the first certification you'll have to complete 200 hours of training. So, if you want to make sure that you get free time to visit a few temples, spend some time at the beach, try a Balinese massage or simply relax and do nothing, book a retreat that lasts a minimum of 25 days. This way you won't have to rush through all that's included in the schedule and limit your daily workload to 8 hours.
If you're traveling from the USA, take into consideration that the trip will be quite long (about 12 hours) and the jetlag could take a toll on your performance. Arrive one or two days in advance or choose a longer program to stay fresh all throughout your training.
In terms of accommodation, there are literally hundreds of options you can choose from. Just find a program that aligns with what you're looking for and get ready for an unforgettable time in Bali. It could either be in an upscale resort where all your needs will be covered; a small guesthouse where you'll get more intimacy and get to know your peers better; or even a campsite to live the adventure and truly connect with nature.
If you go for a 200-hour certification, you'll normally learn general Hatha Yoga. But if what you're looking for is to specialize in a specific style, there are also plenty of shorter retreats to add Yin, Vinyasa, Aerial, Acro or any other type of yoga you want.
Ask the teacher(s) and/or organizer who'll be hosting the training any other question you may have before making a decision. You must be certain that you'll feel comfortable and trust the person that will be guiding you to take this major step in your yoga journey.
Top Yoga Teacher Training Courses to Join in Bali
20 Day 200-Hour YogaFX International Yoga Teacher Training in Bali
Price: from US$2,499 for 20 days
Availability: All Year Round
Location: Seminyak, Bali
Instruction language: English
Instruction level: All levels
Learn to teach yoga and get in the best mental and physical shape of your life!
Held in Seminyak, on the west coast of Bali, after completing this 200-hour teacher training course you'll receive two international certificates: Yoga Alliance and ACE (The American Council of Exercise).
You'll stay at Villa FX, ideally situated in Seminyak, providing access to the city's biggest attractions. There are 14 bedrooms, all equipped with Wi-Fi, luggage storage, TV, and AC.
Each day starts at 8:30 a.m. with a yoga class and is followed by a lecture and lunch. In the afternoon, you'll join another lecture and a yoga class. You'll be watching the sunset from the beach and have free time for dinner. In the evening, from 8 p.m., you can practice yoga or attend another lecture.
You'll study the following Yoga styles: Hatha, Ashtanga, Bikram, and Kundalini. You'll also get knowledge about the importance of yoga, the divine powers of the mudras, the chakra energy centers, and more.
As part of the 200-hour curricula, you'll study anatomy, physiology, and posture alignment. By the time you complete the course, you'll know how to structure and teach a yoga class.
The package includes a vegetarian lunch each day, as well as water.
During your free time, you can surf, snorkel, explore the paddy fields, visit temples, and more.
23 Day 200-Hour Self-Development Yoga Teacher Training in Ubud, Bali
Price: from US$2,147 for 23 days
Availability: All year round
Location: Ubud
Instruction language: English
Instruction level: Beginner & Intermediate
Are you looking to take a journey of self-growth and development through yoga on magical Bali? Open your mind to new possibilities, shift your perspectives and challenge yourself on this 200-hour teacher training course.
During the course, you'll be accommodated in a local homestay that has partnered with YogaUnion.
Each morning begins with an hour of pranayama, meditation, and mantra chanting, followed by a Vinyasa flow class. In the early afternoon, you'll study asanas, with an emphasis on alignment, adjustment, and teaching methodology.
In the afternoon, you'll focus more on the restorative styles of yoga (Yin, Hatha, Nidra) and join specialized workshops. You'll also study yoga philosophy,and anatomy, learn how to use yoga props, and more.
Upon competition, you'll be eligible to register with Yoga Alliance.
The package includes 20 vegetarian (or vegan) breakfast, lunch, and dinner buffets, from Monday to Saturday each week. Sundays are days off when you need to cater to yourself.
During your free time, you can go on nature tours, jungle hikes, swim, visit temples, and more.
24 Day 200-Hour Vinyasa, Hatha, Ashtanga Yoga Teacher Training in Ubud, Bali
Price: from US$2,200 for 24 days
Availability: May to December 2022
Location: Ubud
Instruction language: English
Instruction level: All levels
Train with instructors from around the world in one of the world's most spectacular destinations!
Located in Ubud, the accommodation offers a peaceful environment, just 10 minutes walk from Ubud market, cafes, temples, and more. Each room has its own bathrooms with modern, western facilities.
The 200-hour teacher training program focuses on the different aspects of yoga, such as asanas, pranayama, meditation, anatomy, and philosophy. You'll also study the art of teaching.
Each day starts at 5:30 a.m. with the morning bell. You'll then attend a pranayama session, followed by a yoga class. After breakfast, you'll join various lectures. There'll be an hour of free time after lunch, followed by more lectures and an evening yoga class.
Upon completion, you'll be able to register with Yoga Alliance.
The package includes three meals each day, as well as water, tea, and detox juices.
Included in the price are also various excursions you'll enjoy during the weekends, such as a waterfall tour, visit Canggu beach, and more.
Best time to do your training
Image credit: Ulu Yoga
The busiest time of the year is between May and September and it might be better to avoid these months to prevent distractions. If there's too much outside noise, it could be harder to fully concentrate on your practice and make the most out of your training.
It's recommended to choose a program between November and April. The humidity will lubricate your joints better and the sound of the rain falling will keep you calmed and focused. You might get a bit wet if you want to explore the island, but who cares? Remember that life –as yoga– is all about learning to dance in the rain.
Note: We strongly encourage those who choose to travel to check local government restrictions, rules, and safety measures. Read more details here.
*All prices are valid at the time of publication and are not guaranteed. They are subject to change without notice.
*Cover image credit: Parahita Alam Bali (My Travels Choice)