5 Tips to Encourage Your Kids to Do Yoga
The go-to resource to prepare for your yoga teacher training. Find all you need to know about the top destinations and take your practice to the next level.
Discover Yoga Teacher Training now
Yoga is beneficial for every age group, especially for the kids. After all, today's kids are as stressed as their elders. They have to go through a lot of pressure to stay competitive in school and other extra activities. In addition, unhealthy food choices, like fast food, have become a big part of their lifestyle.
That's why yoga can help them improve their health. Yoga will give them physical strength, balance and coordination. Yoga boosts their cognitive abilities, it develops concentration and focus, enhances self-esteem, and promotes the mind-body connection. Many studies have claimed that yoga can even be useful for kids with ADHD.
With all these benefits, how can we not encourage our kids to start with the practice at an early age?
How to Encourage Them to Practice Yoga?
It is not an easy task to instill the love for yoga in your kids. Yoga is not always a colorful activity like "hide and seek" or "capture the flag". Thus, no kid will be too enthusiastic to add another obligation to his/her busy agenda. They have enough with school, assignments, sports and family commitments.
We should never impose yoga on our kids. Fortunately, there are many fun ways to introduce them to the practice without forcing it. Here are 5 tips that will get your children on the mat on their own:
Practice Yoga in Front of Your Kids
Image source: Yoga Journal
Kids learn what they see, what they experience. In fact, they are more inspired to do the things being done by their parents. Capitalizing on this tendency, you can get them interested in yoga. How?
Just practice yoga in front of your kids! This way, you can evoke their curiosity and they'll eventually be interested in yoga.
You could ask them to join you, too. For example, you can invite them to climb on you or to swing from your standing pose and crawl beneath your downward dog. It could also be fun for kids to see you doing strange yoga poses like inversions or twists.
Tell Them the Benefits of Yoga in Engaging Ways


Image source: Reseveralife
It may not be feasible to explain in detail the endless benefits of yoga to your kids. But you can use your imagination to plant a little seed of curiosity. For example, you can tell them that yoga can make them strong and brainy like their favorite superhero, or as flexible as Elastigirl from the Incredibles.
Bring Fun into Poses
Use yoga poses like cat pose, partner boat, camel pose and tree pose to play with their imagination. Ask them to do as a cat and a dog; or jump on a boat to sail to a big party; or to imitate a tree. These things will prompt them to perform all the related yoga poses and have fun in the process. To add more fun, you can make noises while doing animal-related poses.
Invite Them to a Yoga Class
Image credit: NewsExperts
Send them to yoga classes once they are mature enough to perform yoga on their own. This way, they can explore yoga deeply on their own terms. Not only will it help them gain confidence and a sense of responsibility, but it will give them the opportunity to create their own group of like-minded peers.
Make sure to choose an experienced yoga instructor for kids. Or if you want to expand your knowledge and teach your children on your own, sign up for a yoga teacher training for kids.
Use Yoga Products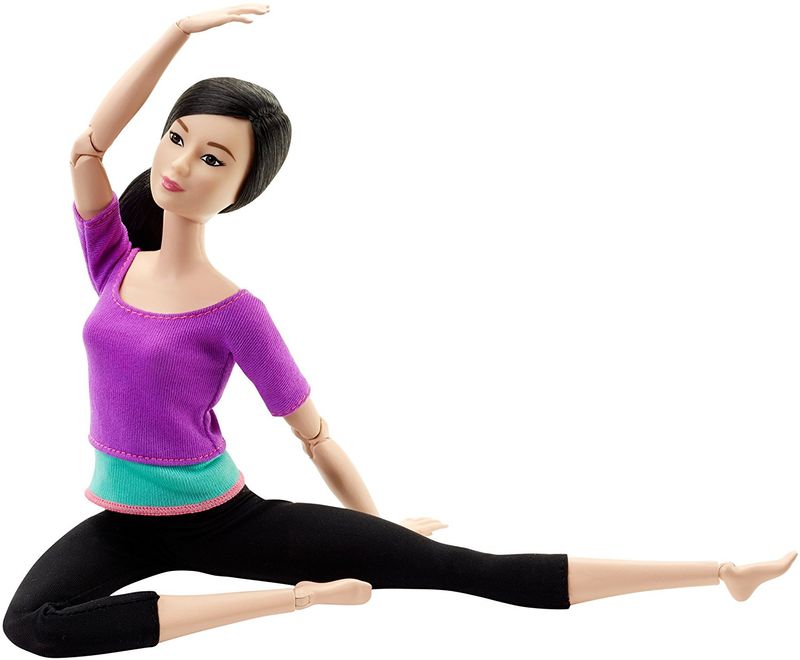 Image source: Amazon
You can use yoga products to get your kids interested in yoga. For example, the yoga doll is an amazing invention. It can be twisted into most yoga poses for you to teach them the proper alignment.
Another useful resource is this pose-by-pose bedtime storybook that teaches the simple yoga poses inspired by their favorite animals.

A Few Things to Consider
You should be careful while performing yoga with your kids. Make sure the poses are appropriate for their age. For example, pre-scholars are likely to love the quick and moving poses. But they don't have the strength to hold poses for a long time.
Kids from 9 to 12 are curious and love to learn new things in yoga. By the time they reach teenage years, they'll be more capable to do advanced poses or implement mediation or pranayama to their practice.
Apart from their age, choose poses according to their health condition. For example, a kid with asthma, a hernia or breathing difficulties should avoid complicated poses.
---
Want to become a yoga teacher to help your kids with the practice? Start with a 50-hr yoga teacher training course and become certified in a few days.
Wilson is a guest author from ChampionTutor.