How to Live Long and Well with Yoga and Meditation
The go-to resource to prepare for your yoga teacher training. Find all you need to know about the top destinations and take your practice to the next level.
Discover Yoga Teacher Training now
If you've noticed an influx of seniors taking up yoga lately, there's a good reason. Actually, there are dozens of reasons with the bottom line being better health, improved range of motion along with less stress, pain and stiffness.
It turns out that regular stretching is just as important as regular exercise, and yoga is the perfect way to do it. When meditation is added to the mix, the benefits are exponential.
According to research by cardiologist Dean Ornish, M.D., practicing yoga and meditation along with other positive lifestyle changes has the ability to lower your blood pressure and reverse heart disease.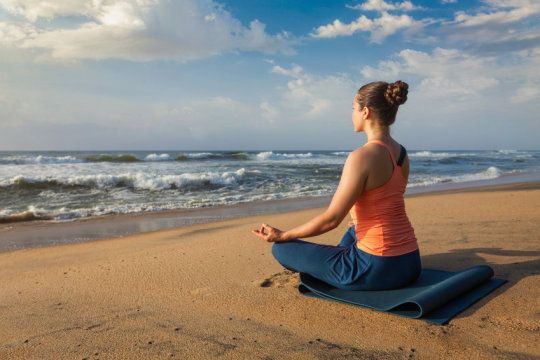 Yoga helps you increase your muscle tone, balance, and strength. Studies also show that the weight-bearing aspect of yoga helps with low bone density, reducing the risk of osteoporosis.
Science supports yoga and meditation for people with anxiety attacks, insomnia, depression and stress, and 99 percent of all diseases are either caused by or exacerbated by stress.
Yoga helps to correct your posture by stretching tight under-used muscles. Without even knowing it, we often hold our bodies in a tense, alert pose every day. As time goes on, this results in our neck and shoulder muscles getting tighter and shorter. Doing the right stretching exercises can ease tension and stress, which can elongate tight muscles and ease pain and stiffness.
Yoga improves circulation by increasing the blood flow to muscles and joints. When our muscles are tight, this tension slows the blood flow. If our muscles stay tense, they become oxygen-starved, and metabolites like lactic acid, build up. Increased blood flow to the brain improves brain health. While there's no cure for Alzheimer's, research suggests that yoga and meditation may play a role in preventing symptoms.
Meditation is no longer considered only a spiritual practice. It's a tool with proven health benefits. While meditation has long been linked with reducing stress and anxiety, studies from UCLA have suggested that meditating for years actually thickens the brain by strengthening the connections between brain cells.
The latest research in the journal Frontiers in Human Neuroscience has found that those who meditate process information faster than those who don't.
If you're already an avid yogi who already knew all these benefits, spread the word and help others live a longer life through your teachings. Sign up for a yoga teacher training course and learn how to pass on your passion for yoga.
Tips for Seniors
Image credit: Jeffrey Smith
To find senior-friendly yoga classes, check out:
Local senior centers
Retirement communities
Community centers
Religious organizations
Health clubs and gyms
If you'd rather do yoga from the comfort of your home, check out popular yoga DVDs for seniors or classes available online.

To prepare for yoga, you'll need a mat, comfortable, stretchy pants and a close-fitting top. Yoga is done barefoot, but if you're uncomfortable, there are yoga socks with grips on the bottom that will keep your feet from sliding around on your mat.

How do you meditate? Take one conscious breath in and out, and there you have it. You just meditated. By simply focusing on your breathing, it puts you in the present. It's that simple. When your mind begins to wander, gently bring it back to focusing on your breath. Start with just three minutes per day. The more you practice, the easier it becomes. Schedule it as you would an important appointment.

If ever there was an age group that needs yoga and meditation, it's seniors. Regardless if you're overweight, out of shape or rigid in body and mind, you can begin to reap the benefits of yoga and meditation the day you begin. Practicing both will play a huge role in your ability to live longer. Not only can you extend your life, but also you will feel better as your aches, pains and stress begin to melt away.