Top Yoga Teacher Training Courses in Spain
The go-to resource to prepare for your yoga teacher training. Find all you need to know about the top destinations and take your practice to the next level.
Discover Yoga Teacher Training now
A country of stunning natural beauty, blessed with glorious year-round sunshine, vibrant culture, and delicious cuisine, it's no wonder that Spain is one of the most visited countries in Europe.
Thanks to the increasing numbers of world class yoga retreats and yoga teacher training courses, it also constantly ranks among the top three yoga destinations in the world.
You have access to a vast variety of yoga vacations in this gorgeous Mediterranean country.
That said, if you are looking to enhance your yoga practice or plan to start teaching yoga, there are plenty of quality yoga teacher training courses in Spain to choose from, spread across the beautiful mainland, and its stunning islands.
Note: BookYogaTeacherTraining offers a flexible cancellation policy. Should you not be able to travel as scheduled, we'd be happy to help you alter your booking with the same organizer or with a different organizer.
History of Yoga in Spain
Yoga & Spain have quite a long love affair. The practice was introduced in the country during the first half of the 20th century when yoga expanded beyond its eastern borders.
While it originally appealed to a handful of hippies and intellectuals, its popularity started to increase by the last decade of the last century.
Fast forward to today, Spain has become one of the best places to attend a yoga retreat or yoga teacher training course in Europe.
Top Destinations for Yoga Teacher Training Courses in Spain
The entire country is magical and offers superb places to enhance your practice. But some destinations have distinguished themselves as perfect settings for sunrise Sun salutations, sunset meditations, and energizing practices.
One of the Balearic Islands, Ibiza has no rival when it comes to visiting Spain.
Quiet beaches, a charming Old Town, beautiful sunsets, mouth-watering cuisine, and vibrant nightlife make Ibiza as an excellent place for your yoga teacher training course.
Its atmosphere and popularity have attracted yoga teachers from all over the world. You'd be practicing your asanas guided by top-notch instructors in a stunning setting. What else could you wish for?
One of the most popular cities in Europe and the jewel of Spain, Barcelona is home to world-class museums, cultural landmarks, and excellent beaches.
The hills surrounding the city are home to farms and country houses. Many yoga teacher training courses take place in this area, allowing you to be away from the hustle & bustle of the city but close enough if you want to go sightseeing during your free time.
The city blends the old monuments with the new modern buildings in a quite interesting way, creating a unique vibe. Between the vibrant sunsets, medieval merchant's quarter, and futuristic sites, Valencia is a favorite among visitors.
The gorgeous weather and stunning beaches attract visitors – and yogis – from all over the world.
Many yoga teacher training courses take place in nearby villages so that you have the tranquility you need to enhance your practice. But you'll also be a short ride away from both the beaches and the vibrant city.
The natural beauty and Moorish architecture make the Andalusia region as a great place to do your yoga teacher course.
Thanks to its location in southern Spain, Andalusia is blessed with mild winters which ensure a constant stream of visitors year-round. The main destinations in this region are Costa del Sol and the Sierra Nevada.
But it's not all sand & sun here. There are 42 UNESCO World Heritage sites in Andalusia, including the incredible Alhambra complex, the historic center of Cordoba, and Granada.
Top Yoga Teacher Training Courses to Join in Spain
29 Day 200-Hour Hot Vinyasa Yoga Teacher Training in Sant Martí, Barcelona
Cost per day: from €103
Availability: April & May 2021
Location: Barcelona
Instruction language: English
Instruction level: Intermediate
This teacher training is directed toward anyone interested in exploring the essence of yoga and refine their practice both for personal enrichment and for becoming a yoga teacher.
The course is very practical, and students will have a lot of time to practice teaching and learn how to create their own Vinyasa sequences safely.
Upon completion, students will hold a 200-hour certified yoga instructor license and will be able to register with Yoga Alliance.
You'll be staying in an apartment, located about 20-25 min from the studio. All apartments are equipped with cooking and laundry facilities, heating, and AC. The studio is located just a few minutes' walk from the beach.
Your day will start at 9 a.m. with classes & practices, such as hot yoga practice, pranayama, meditation, and theory. Lunch break is from 12:30 pm to 2 pm. And is followed by more classes, practice, and teaching. Kindly note that meals are not included in the package.
During the first two weeks, the focus will be on theory and practicing different types of yoga, like Yin and Restorative. The final two weeks will focus on practice and teaching. You'll learn how to adjust students, how to deal with variations, injuries, and more.
The closest airport is Barcelona–El Prat Airport (BCN) and the transfer is not included.
21 Day 200-Hours Multi-style Yoga Teacher Training from Indian School in Mallorca, Balearic Islands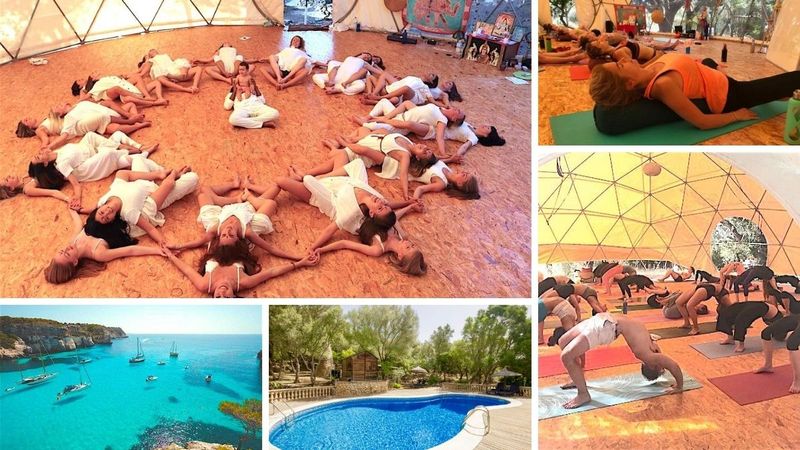 Cost per day: from €95
Availability: September & October 2020
Location: Mallorca, Balearic Islands
Instruction language: English; the organizer also speaks German, Italian & Spanish
Instruction level: beginner & intermediate
This yoga teacher training course is ideal for those who are looking for inner peace and wisdom and are open to the Indian yogic philosophy.
If you want to seek who you really are, desire to bring your regular yoga practice to the next level, and need to break the boundaries and limitation that are holding you back from freedom and liberation, you've chosen the right retreat.
You'd be staying at The Ashram Shanti Niketan, located on the Eastern side of Mallorca island. The Ashram is set in a typical Mallorcan village, away from the distractions and the crowds.
The rooms are comfortable and cozy. The glamping tents are eco-friendly featuring eco-toilets and showers. The venue includes a saltwater swimming pool, an outdoor kitchen and dining area, a meditation place, a temple, and a spa.
Your day starts at 7 a.m. with meditation, kirtan, and satsang. The tea and coffee break is at 8 a.m., followed by an Asana class. Brunch is served at 10 a.m. You'll have a short break before the philosophy or teaching methodology class.
There's another class (asana clinic, adjustment, or practicum), followed by the afternoon tea and coffee break. Anatomy (or philosophy) class is at 3:30 pm, then you'll attend the evening Asana class. Dinner is at 6 p.m. and is followed by meditation, counseling, and group discussion.
The food served follows the guidelines of ayurvedic science, keeping in mind the dietary needs of the students. The food is sattvic, plant-based (also gluten-free, organic & lactose-free). Two meals per day – brunch & dinner- are included (except on Sundays).
You'll be flying into Palma de Mallorca Airport (PMI). The transfer is available upon request and for an additional fee.
22 Day 200-Hour Yoga Alliance Hatha & Vinyasa Teacher Training in Tenerife for Female Students
Cost per day: from €95
Availability: September to November 2020
Location: Tenerife, Canary Islands
Instruction language: English; the organizer also speaks German & Spanish
Instruction level: all levels
This teacher training is ideal for all those who want to deepen their knowledge of classic Indian yoga. You'll develop your ability to communicate clearly and with polite vocabulary, calm voice, coordinating students with variations and adaptations in your classes. The purpose of this teacher training course is to teach yoga with knowledge and love.
You'd be staying in shared double rooms, with ensuite or shared bathrooms. The venue has a swimming pool, gardens, a terrace, and free wi-fi.
Your day starts at 6 a.m. with a morning tea and Antar Mouna (Inner Silence). Meditation is at 7 a.m., followed by Vinyasa yoga. Breakfast is served at 9 a.m. and then you'll attend a Hatha yoga alignment class. Lunch is at 1 p.m.
You'll have free time before the theory lesson at 3 p.m. There's one more class before dinner (at 7 p.m.). During the evening there's a Karma Yoga class and you also have time for self-study.
Every day you can take a sunset beach break.
The retreat is based on self-catering and encourages students to cook together. The organizer provides fruits, vegetables, and all the basic foods you need for a healthy plant-based plan. Kindly note that coffee, alcohol, tobacco, as well as non-yogic foods, are prohibited.
Upon completion of this yoga teacher training, students will receive a certificate affiliated with Yoga Alliance.
The closest airport is Tenerife–North Airport (TFN) but you can also fly into Tenerife–South Airport (TFS). The transfer is not available, and you'll have to catch a taxi to the retreat. If you fly into TFS you can take a bus to TFN and then catch a taxi.
20 Day 200 Hours Yoga Teacher Training in Ibiza
Cost per day: from €175
Availability: April & October 2021
Location: Ibiza, Balearic Islands
Instruction language: English; the organizer also speaks Spanish
Instruction level: all levels
This Ayurveda and Yoga Teacher Training is a spiritual practice, developed and guided by an experienced yoga teacher/therapist Liilamaya Liliana Galvis, with the assistance of an Ayurveda doctor, and a few local masters.
Students not only learn how to teach asana flows but also are able to incorporate aspects of Indian Hindu philosophy to their teachings, basic Sanskrit, chanting, apply Ayurveda concepts into their lives, and more.
This training is small and intimate (group size: 4-10 participants). If you join the teacher training but can't attend, the training sessions will also be live on Zoom and recorded.
Your day starts at 6:30 a.m. with meditation and a daily inspirational quote. Then you'll practice yoga from 7:45 a.m. Breakfast is served at 9:30 a.m. and is followed by lectures, teaching methodology, philosophy, and more.
Before lunch, you will enjoy a nature walk. Then after the mid-day meal, there's time to relax and study. Classes resume in the afternoon with asana practice in pairs, followed by Yoga Nidra and meditation (at 6 p.m.). Dinner is served at 7 p.m.
Sundays are days off when you can spend time on-site or enjoy the surrounding area.
Book your flight into Ibiza Airport (IBZ). The transfer is not provided but the organizer will help you with information on how to get to the venue.
26 Day 200-Hour Pranayama, Chanting, Meditation, and Yoga Teacher Training in Benissivà, Valencia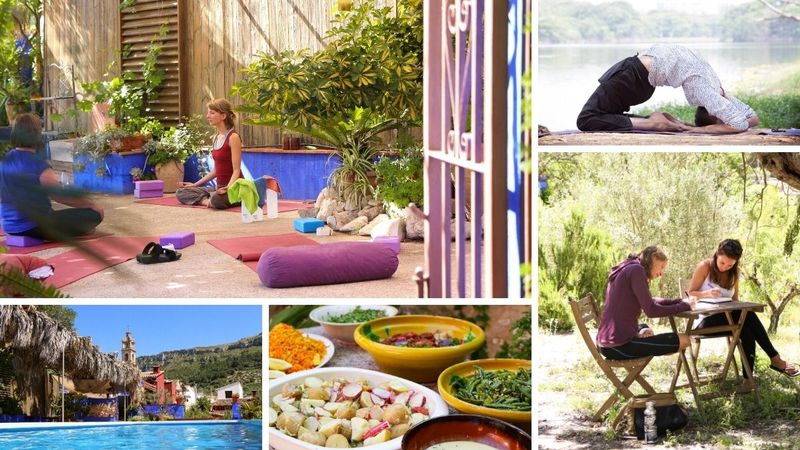 Cost per day: from €138
Availability: January & July 2021
Location: Benissivà, Valencia
Instruction language: English
Instruction level: all levels
If you've been practicing yoga for a while and want to dive deeper into the philosophy of the East and the science of the West, this course will suit you.
The course gives you the opportunity to study Hatha, Vinyasa, and Yin Yoga to a level that you can then confidently teach these styles to your students.
During your teacher training course, you'd be staying at a beautiful secluded retreat center in Benissiva, just a 30-minute drive from one of Valencia's most beautiful beaches, Oliva.
The rooms are single occupancy featuring beautiful views of the mountains or the village. All rooms feature ensuite bathrooms, AC, and heating. The retreat center features an outdoor swimming pool and a communal kitchen.
Three daily meals are included (except for Saturday when only breakfast is served). All meals are plant-based and use organic, local products. Spring water, organic coffee, and a selection of organic teas, fruits, and snacks are also included and available to you throughout your stay.
During the weekdays, your day starts at 7:30 a.m. with Pranayama, followed by Asanas. There's a break before Meditation which is followed by breakfast at 9:30 a.m. Three more classes will take place before lunch (at 2:15 pm).
During the afternoon you'll have three classes of teaching practice and a workshop. Dinner is served at 7:30 p.m., followed by Chanting and Silence Time.
During the weekends, the organizer offers complimentary guided hikes / walks (Saturday) and workshops (Sunday).
In addition to the scheduled classes, you can also take free private yoga classes, that are offered by the assistant teachers.
Upon completion, you'll get a certificate to teach yoga, which can be used to register with Yoga Alliance.
You can fly into either Alicante–Elche Airport (ALC) or Valencia Airport (VLC). The transfer is available upon request and for an additional fee.
---
Looking to enhance your yoga practice but can't travel right now? Join an online yoga teacher training from the comfort & safety of your own home.