Top Yoga Teacher Training Destinations in Asia & Oceania
The go-to resource to prepare for your yoga teacher training. Find all you need to know about the top destinations and take your practice to the next level.
Discover Yoga Teacher Training now
Home to some of the world's oldest cultures, beautiful natural landscapes, delicious foods, colorful markets, and friendly people, Asia & Oceania tick all the boxes for outstanding travel destinations.
And where better to enhance your yoga practice than on the continent where yoga was born, Asia. The cradle of yoga, India, is the place where most yogis dream to take their practice to another level. Alongside India, Nepal shares the same yogic tradition.
Throughout both Asia & Oceania, you have access to a variety of yoga trainings in stunning places. Whether you fancy striking asanas on the beach or in tropical forests, enjoy the quaint country-side or bustling cities, you're spoiled for choice in this magical part of the world.
Therefore, if you plan to start teaching or want to enhance your practice, there are plenty of quality yoga teacher training courses in Asia & Oceania to choose from. However, with so many splendid choices to consider across this part of the world, you may find it challenging to narrow down the list.
Worry not, in this article, we are sharing the top destinations in Asia & Oceania to consider for your next yoga teacher training course. Whether you're looking for a truly authentic yoga experience in India or would like to combine your training with an unforgettable holiday in Thailand, Indonesia, or Australia, we've got you covered!
Note: BookYogaTeacherTraining offers a flexible cancellation policy. Should you not be able to travel as scheduled, we'd be happy to help you alter your booking with the same organizer or with a different organizer.
India
Photo credit: Rishikesh Yoga Teacher Training Center
India, the cradle of yoga, is the most natural choice for an authentic yoga teacher training course. You'll learn from the very best gurus in the world and get to do in a country filled with mysticism and spiritual vibes.
Choosing a location for your yoga teacher training course in India depends on what you want to focus on. Yoga is practiced in many ways across the country, depending on the style of the region and the instructors.
Located on the foothills of the Garhwal Himalayas and on the riverbank of the holy Ganges, Rishikesh is home to the very best programs for your teacher training, where the purest form of yoga is practiced. If you want to truly immerse in all aspects of yoga, on and off the mat, this is the best place to choose. The retreats here attract thousands of aspiring instructors and advanced practitioners.
» Read more: Why Should I Do My Yoga Teacher Training in Rishikesh?
Not only will you be practicing yoga in stunning places but there are also plenty of activities to enjoy during your free time: river rafting, kayaking, parasailing, hot air ballooning, hiking, and even climbing.
If you are looking for something more laidback, without losing the authenticity of India, head to Goa, on the coast of the Arabian Sea. The more liberal people and the European-style architecture - a legacy of its former Portuguese influence - has led to more luxurious and less intense yoga teacher training courses here.
During your free time, explore the superb sites, including Fort Aguada, with some lovely views of the river and sea, and Chapora Fort, the most famous in the area. There are plenty of beaches you can relax on, too. As opposed to Rishikesh where Hindu temples abound, in Goa, you can check out quite a lot of lovely Catholic churches and basilicas.
Should you decide you want to focus on Ayurveda or Sivananda, choose a yoga teacher training course in Kerala. Yoga teaching here is traditional and you can learn from the best instructors.
Located on the Malabar Coast in Southwest India, Kerala boasts an extensive coastline, picturesque nature, and rich heritage. During the free time, you can visit a tea or spice plantation, explore Fort Kochi, spend time on the beach, or see the wildlife.
» Read more: Top Destinations for Yoga Teacher Training in India
Indonesia
Photo credit: YogaUnion
While there are plenty of yoga teacher training course in Indonesia available throughout the country, Bali is the star. When someone thinks of Indonesia, without a doubt, they think of The Island of Gods.
Indeed, Bali is one of the most sought-after destinations in Asia to become a yoga instructor. The island is a wellness hub, bursting with tasty vegan and vegetarian options, holistic spas, and Ayurvedic centers which align perfectly with the yogic lifestyle.
The stunning landscape and affordable teaching courses also play a huge part in the island's popularity among yogi practitioners from all over the world who want to take their practice to another level.
Made famous by the movie "Eat, Pray, Love", Ubud is an ancient town and is famous for its ancient temples royal palaces, and green fields. To get immersed in the local scenery, head to Campuhan Ridge Walk, just outside the town.
Most training retreats take place in traditional Balinese villas with lush tropical gardens and panoramic landscape views, perfect for yoga, journaling, and self-reflection. Ubud's Zen-like ambience will make it easy for you to relax and focus on improving your practice.
On the south coast of the island, Canggu boasts superb beaches and enchanting rice fields. During your free time, you can take a cooking class, explore the organic Sunday market, or even go horseback riding.
Located east of Bali, Lombok is known for its gorgeous beaches and surfing spots. It's a great place to immerse in the serene environment and focus on relaxation, away from the crowds. Who can refuse such a lovely setting where you can improve your practice and get a solid foundation to teach yoga?
» Read more: Why Should You Do Your Yoga Teacher Training in Bali?
Thailand
Photo credit: The Yoga Mat School
One of the hottest travel destinations, Thailand is also a great place to take your yoga practice to the next level.
This tropical country combines majestic Buddhist temples with picturesque villages, gorgeous beaches, and superb nature. And you can spice up your training with a couple of cooking classes or maybe even learn Muay Thai. And considering it is quite affordable to travel around the country, you can add some days to your vacation and explore more of what the country has to offer.
When it comes to choosing where to go for a yoga teacher training course in Thailand, it depends on whether you fancy spending your time on an island or deep in the jungle.
Koh Samui is one of the largest islands in the country and also one of the top exotic destinations in Southeast Asia. But despite its popularity among travelers, there are still plenty of off-the-beaten-path places where yoga teacher training courses take place. During the free time, spend time on the beaches, visit temples, or go zip lining.
However, the most popular island among yogis is Koh Phangan. If you want the best of the two worlds – partying and relaxation – this is where you should look for a teaching course. And you should make sure you also take time to explore the beautiful waterfalls, spend time on the beaches, or check out the night market.
The cultural capital of Thailand, Chiang Mai was founded more than seven centuries ago. Located in Northern Thailand, the city's inherent mystic vibes make you want to live like a true yogi. During your free time, visit the temples, check out the museums, or traditional villages.
Nepal
Photo credit: Nepal Yoga Home
It doesn't matter whether you climb Mount Everest, visit a temple, or explore a rural village, Nepal is well-known for its spiritual feel.
To get an idea of the spiritual vibes here, remember that Gautama Buddha–the founder of Buddhism–was born in Lumbini, in southern Nepal. So, it's no wonder that, along with India, Nepal is considered the cradle of yoga and is a place with vast Hindu tradition.
That's why joining a yoga teacher training course in Nepal is one of the best experiences you can have in your life. You can get a globally recognized certification with a training program that covers all the fundamental principles of yoga.
And you'll do it in a country that boasts stunning mountain scenery, incredible jungle wildlife, and heritage sites. Just imagine striking your asanas in the fresh air with a breathtaking backdrop of the world's highest mountains. To relax, go hiking on the gorgeous trails or take part in adrenaline-packed adventures.
When choosing the place for your yoga teacher training, there are two cities you don't want to miss: Kathmandu and Pokhara.
The capital city of Katmandu is an open-air museum, with Hindu and Buddhist temples, Newari architecture, and plenty of tourist places. For some breathtaking views of the entire valley, head to the top of Swayambhu, also called the Monkey Temple. Or you can visit the UNESCO World Heritage Site of Bhaktapur, which is home to one of the largest stupas in Nepal.
Pokhara, on the other hand, is the center of adventure and leisure travel. Here you can combine a teacher training course with hiking and even pony rides. And if you love an adrenaline rush, try rafting, paragliding, skydiving, or even climbing. Or you can spend your free time exploring the unique Nepalese villages.
No matter which area you choose for your training, the retreats typically take place in accommodations set in beautiful environments, away from the hustle & bustle of cities.
Australia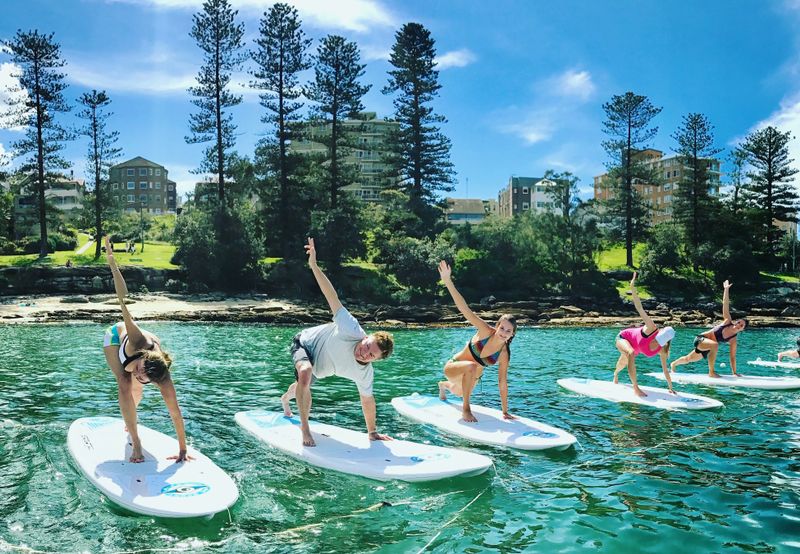 Photo credit: Flow MOcean
Located in the Pacific Ocean, Australia is a unique country that offers a great experience to its visitors, especially when it comes to yogis looking to improve their practice.
The Land Down Under is a warm and sunny country, filled with natural wonders and plenty of stunning wide-open spaces.
While yoga only made its way to Australia about 50 years ago, it has gained popularity over the years, so that now it's considered a mainstream practice.
When it comes to choosing a yoga teacher training course in Australia, it's mostly a choice between climates and scenery, and whether you prefer to be close to a city or not. Also, plenty of the retreats take place in eco farms and spas, so you can indulge in some pampering, too.
Not to mention, if you want to focus on Stand Up Paddleboard Yoga Teacher Training (SUPYTT), you are coming to the right place! Learn from the best instructors and gain the SUP skills so that you can share your knowledge with other yogis.
Generally speaking, if you decide to visit Byron Bay, it would be for sunbathing or surfing. But you can also take your yoga to another level here. Join a yoga teacher training course and live by the beach, embracing the laid-back lifestyle, complementing it with a few barbies. During the free time, visit the local markets, spend time on the beach, or learn how to surf.
Australia's most popular travel destination, Queensland features idyllic tropical islands, golden beaches, and stunning surfing. Home to the Great Barrier Reef, lively cities, and gorgeous national parks, you'll fall in love with the area as soon as you get here.
Taking advantage of the scenic landscape, the yoga teacher training retreats are tucked away in secluded places, offering stunning views of the area, while still being close to the points of interest.
---
Looking to enhance your yoga practice but can't travel right now? Join an online yoga teacher training from the comfort and safety of your own home.