Top Yoga Teacher Training Courses in Mexico
The go-to resource to prepare for your yoga teacher training. Find all you need to know about the top destinations and take your practice to the next level.
Discover Yoga Teacher Training now
Do you feel the need to get away from your daily routine and focus on reconnecting with the yoga practice? Or perhaps you've always dreamed of taking your passion further and want to become a yoga teacher.
One of the popular destinations for yoga teacher training is Mexico. Few destinations are as complex, colorful, and vibrant as this lovely country. Featuring white beaches, plenty of resorts, incredible mountains, delicious foods, and charming festivals, Mexico seems to have it all.
But where should you go if you want to practice yoga, find peace, and enjoy some of the best sites in Mexico?
Tulum, located on the Rivera Maya, is a dream destination when it comes to attending a yoga teacher training course. The Zen atmosphere, famous Mayan ruins, and the healthy lifestyle culture will make you fall in love with this part of the country in no time.
In the same state, Playa del Carmen is a popular travel destination. And while it can get overcrowded during the peak season, there are still quite a few hidden places to explore. You can practice yoga on the beach and connect with nature. But if you fancy a bustling nightlife, you'll also find it here.
The blue waters and sandy beaches that define Mazunte are great for a yoga break. If you've always wanted to learn how to surf, you can do that here – and why not, mix it up with your yoga practice. Admire the sunsets, check out the wildlife, and have the time of your life.
You can't visit Mexico and not spend some time in Mexico City. Bustling and full of landmarks to explore, it is also a great destination for a yoga teacher training course. You get to enjoy the urban vibes while focusing on your practice.
With so many great choices, it could be hard to choose just one yoga teacher training course.
That's why, in this article, we are sharing five great yoga teacher training courses in Mexico.
Note: BookYogaTeacherTraining offers a flexible cancellation policy. Should you not be able to travel as scheduled, we'd be happy to help you alter your booking with the same organizer or with a different organizer.
Price: from US$2,593 for 17 nights
Availability: November 2021, January, March, May, June & July 2022
Location: Todos Santos, Baja California Sur
Instruction language: English
Instruction level: all levels
Take your yoga and meditation sessions to a beautiful location, with the Pacific Ocean on one side and a majestic mountain range on the other. Enjoy delicious vegetarian meals, evening live music, and delve deep into yogic philosophy during this yoga teacher training program.
You'll be staying at facilities provided by Yandara Yoga Institute. The accommodation is rustic and modern, emphasizing on comfortable outdoor living. There are three large, enclosed yoga pavilions, a saltwater pool, a kitchen, a dining, and lounge area. You may choose between glamping cabins, comfortable tents, and a cabin. Flush toilets and hot water showers are available, as well as a laundry serve once weekly (US$8 per load).
The course includes 17 days of practice, and you'll join a yoga class every day. There are a variety of yoga styles offered, including Hatha, Vinyasa, Yin, and Restorative.
You'll also join various workshops, get hands-on experience with teacher training practice and instruction, join walking and sitting meditation sessions, and more.
Upon completion, you'll be eligible to register with Yoga Alliance.
All meals and herbal teas are included in the price. The menu is mostly vegetarian, based on beans, grains, and fresh vegetables.
Kindly book your flight to Los Cabos International Airport (SJD). The airport transfer is available for an additional fee.
Price: from US$1,628 for 33 nights
Availability: February, August, October 2022
Location: San Cristóbal de las Casas
Instruction language: English, the organizer also speaks Spanish
Instruction level: intermediate
This course (in English) consists of 200 hours of theoretical and practical instruction and it is based on Ashtanga yoga (or Raja yoga) proposed by Patanjali.
To join, you need to fill out the application form and the letter of motivation. You need at least two years of constant personal practice (minimum three times a week).
The course includes Ashtanga, Vinyasa, Karma yoga practice, anatomy and physiology advice, asana, Pranayama, kriyas, and meditation techniques, as well as an introduction to the yoga diet.
None of the meals are included.
As part of the program, you will participate in a traditional Mayan "Temazcal" (medicinal sauna).
The closest airport is Ángel Albino Corzo International Airport (TGZ) and the airport transfer is not included.
Price: from US$2,219 for 18 nights
Availability: April to October 2022
Location: Bacalar
Instruction language: English
Instruction level: All Levels
Known as the "Lake of the Seven Colors", the Bacalar lagoon is one of the most beautiful places in the Yucatan Peninsula.
During this yoga teacher training in Mexico, you can admire the lagoon from your room; and you can go for a swim or snorkel during the breaks between classes.
You'll stay in wooden cabins, with large windows so that you can appreciate the landscape. The cabins have fans, hammocks, and beds (with sheets and pillows).
This program will allow you to go on a growth and self-discovery experience under the tropical palms and among the hum of the jungle.
This course offers a deep dive into the study of yoga. The goal is to reach your highest purpose through the time you spend studying during this course. Students who complete the training are eligible to register with Yoga Alliance.
You'll start each day at 7:30 a.m. A meditation and pranayama class takes place at 8 a.m. and is followed by a tea break. Then you'll join an asana class from 9 a.m. and have breakfast at 10:30 a.m. A workshop follows from 11:30 a.m. Lunch is at 1 p.m. and you'll have time to rest or explore the area until 4 p.m. when you'll join another asana class. Dinner is at 7 p.m. and is followed by self-study.
Breakfast, lunch, and dinner on class days are included in the cost of the course. The food follows the Sattvic yogic diet.
The closest airport is Chetumal International Airport (CTM).
Pick-up from a designated location will be organized and will be based on the participants' preferences (a WhatsApp group will be created to organize this).
Price: from US$914 for 20 nights
Availability: All Year Round
Location: Miguel Hidalgo, Mexico City
Instruction language: English
Instruction level: Beginner
Want to mix the cosmopolitan atmosphere of Mexico City with your yoga practice? Then look no further than this teacher training course that allows you to do just that.
Explore the city's gastronomy, history, music, art, and culture while you also take steps to begin or improve your yoga teacher training career.
The group size is maximum of 4 participants. You'll be staying in accommodation with two rooms, two full kitchens, and two bathrooms. Public transportation is right at your doorsteps!
The package includes only a vegan breakfast and coffee, but you can do your shopping and cook at the accommodation or try out the nearby restaurants.
Throughout the course, you'll focus on asanas, pranayama, meditation, Yoga Akhanda, Osho Kundalini, and Hatha Raja. You'll also learn the fundamentals of Osho meditation, study how to teach Osho tarot, discover Indian literature, and more.
The course will be taught by Indian master Shiv Shambhu with extensive knowledge in the subjects.
During the weekends, the classes take place in the evenings (from 6 pm), while on Saturday they run from 8 a.m. to 4 p.m., allowing for a lot of time to explore the surroundings.
Kindly book your flight to Mexico City International Airport (MEX). The airport transfer is not included.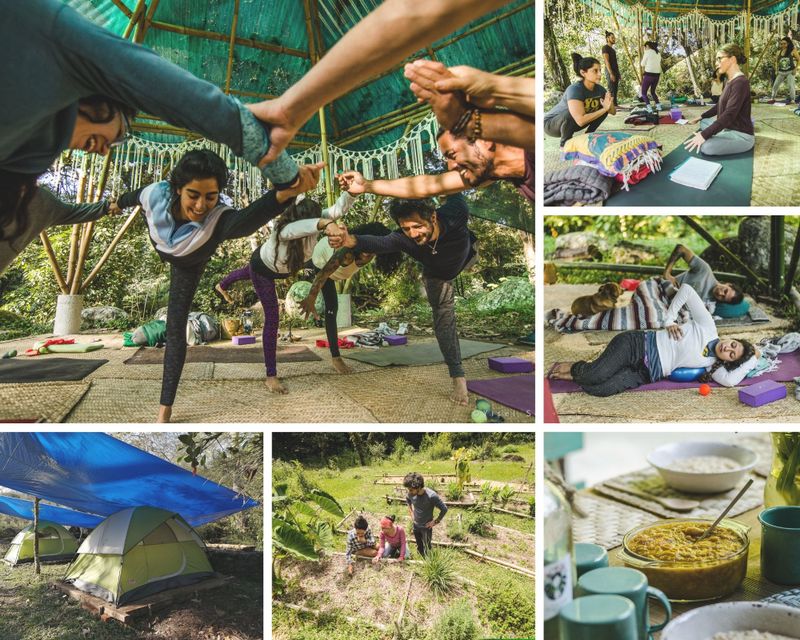 Price: from US$2,356 for 23 nights
Availability: February to June & October 2022
Location: Veracruz
Instruction language: English; the organizer also speaks Spanish
Instruction level: all levels
Get a solid foundation to teach yoga and deepen your practice on this yoga teacher training course in Mexico.
You'll be focusing on Soma Yoga, which not a new style of yoga, but a way of relating to the body that brings more awareness to the symbiotic relationships that we hold inside and outside ourselves.
You'll be staying in a single occupancy tent with a pad, sheets, and pillows – all provided by the organizer. There is no electricity on site, which is located in the middle of the Cloud Forest in the town of Xico, Veracruz.
You'll join daily yoga practices, breathwork, meditation, and pranayama sessions, learn about the microbiome, anatomy, yoga philosophy, chakras, and more. You'll also practice permaculture on site and off site and take place in two Temazcal ceremonies (traditional sweat lodge).
Upon completion, you'll be eligible to register with Yoga Alliance.
On Saturdays, you'll have a free day during which you can go to the organic market and explore the nearest towns.
You'll enjoy delicious home-made meals. The food is mostly vegetarian with the option to choose vegan, too. You'll be served three meals each day, except on Saturdays (when only breakfast is provided).
Kindly book your flight to Mexico City International Airport (MEX) or General Heriberto Jara International Airport (VER). You can take a bus from either airport to Xalapa Bus Central. The transfer to/from the bus stop is included in the package.
Hero photo credit: Davannayoga
*All prices are valid at the time of publication and are not guaranteed. They are subject to change without notice.
---
Unable to travel? Do your yoga teacher training in the comfort & safety of your home with an online yoga teacher training course.