How to Make Sure You're Signing Up for a Top-Notch Yoga Teacher Training [Tips]
The go-to resource to prepare for your yoga teacher training. Find all you need to know about the top destinations and take your practice to the next level.
Discover Yoga Teacher Training now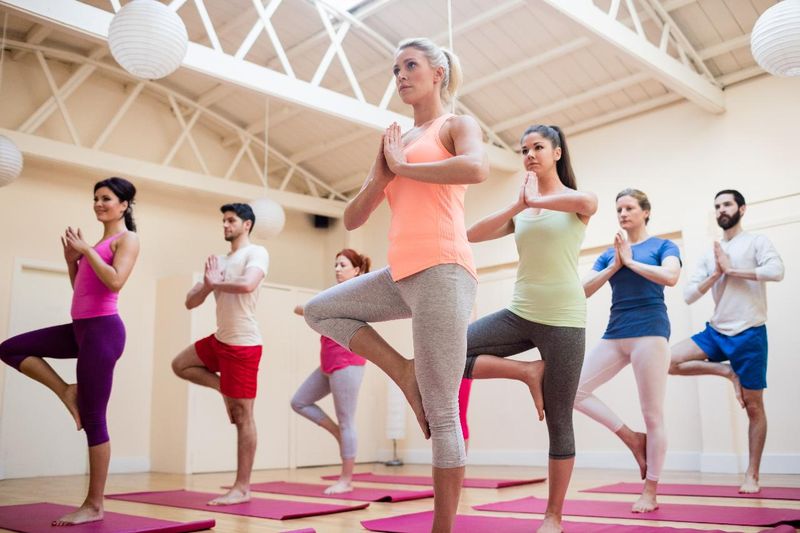 It is really not so easy anymore to find a yoga teacher training program that suits your needs and will support you on a journey of self-development and transformation.
With the huge variety of training courses out there, combining different yoga styles and teachings from various yoga and healing traditions, it's easy to get lost in the process.
As a long-term yoga teacher and someone who was once in the same position and confused about where to study, I'd love to shine some light on how you might be able to make a better and more informed decision.
First things first. The one thing I recommend when looking to sign up for a yoga teacher training is to find one that may not guarantee certification, but is a proper and authentic school that cares about training you in the best possible way.
In traditional yoga schools, diplomas were never given. It is only in recent years that yoga has become a commercial practice and one can now become a teacher almost instantly.
The question is, what do you care most about? A piece of paper? Or the feeling that you are actually ready to teach?
Being a yoga instructor is a huge responsibility, and a diploma should only be given to those who actually focus, practice and do their homework. A real course should have proper assignments, practice tests and anatomy training.
Now, let's look at a couple of other points you may want to consider when choosing a teacher training program:
1. Duration: long versus short
I know it's very common to do a training which takes about 3 weeks and then obtain a certification to be a yoga instructor. The question is, with no previous yoga experience and having to learn a wide variety of sequences and poses, do you believe 100-hrs would be enough? Or would 200-hrs be a better choice?
It is a question only you can answer. I believe that longer trainings generally provide more space for building up a solid self-practice. Shorter trainings offer a more intense experience, though. Therefore, I recommend shorter programs only for those who already have a decent amount of experience and not for complete beginners.
2. School type: mixed styles versus lineage or tradition
If you want to be a fitness yoga instructor who focuses mostly on physical poses and a feel-good effect, I think a mixed style training is great. However, if you want to really go deep into the subject and study a more spiritual approach, I believe it's best to stick to traditional training.
Focusing on one style can help you to go deeper, rather than a mix and match approach. Most modern yoga styles are commercialized and mostly body oriented.
I believe sticking to a yoga lineage will offer a more authentic experience, with meditation, pranayama and yoga philosophy as an important part of the curriculum.
3. Teachers: feeling into the energy
How do you feel about the teachers on the course? Do you intuitively feel good about them? Don't just sing up for a course without knowing who's teaching you or who the school was set up by. I believe it's important to connect with the people you'll be learning from.
Even if you don't have an opportunity to meet the teachers in advance, do some research, read about them and see how they resonate with you. Don't sign up just because the course is convenient or cheap. Get to know the teachers' background and try to find some reviews on the school, as well.
4. Price: affordable versus 'regular' priced
​
This is always a delicate subject. There are very good affordable yoga teacher training programs, but in general, signing up for the cheapest option is not necessarily the best course of action.
You are learning a discipline that is thousands of years old. You are either going to help people with yoga in the future, or you're doing this for your own development and transformation. This is not a time to be cheap.
Good teachers put in a massive amount of effort, energy and time into running these trainings. In my experience, there's nothing bad about investing in yourself by paying a reasonable fee for what you are being offered. It is an energy exchange and the positive effects that you will take away will be worth ten times as much, if not more.

5. Location: at home or away
Both options are fine. Being away from home with everything organized can be comfortable; the downfall is you will have to integrate everything when you get home. If you do a training where you live, which is maybe longer in duration, with breaks in between, you will have more time to make the teachings part of your daily life.
On the other hand, being away might give you time to detox and take some time out of your everyday life. That said, it can also be intense to practice 12 hours a day for 3 weeks; it could even lead to an injury if you're not in shape. Being at home can slow down that process of transformation, making it more gradual.
Conclusion
As you can see, there are many things to consider when choosing a yoga teacher training. It is not a decision to be taken lightly and I really recommend going for a quality training. Too many people have bad experiences and don't feel like they are ready to teach after completing a training, so make sure you make a well-informed decision and start off your practice and career as a teacher on a high note.
---
Interested in going on a teacher training but unsure whether you'd like to teach yoga? Why not sign up for a 100-hr yoga teacher training?