Fully Vaccinated? What You Should Know Before Planning to Join a Yoga Teacher Training
The go-to resource to prepare for your yoga teacher training. Find all you need to know about the top destinations and take your practice to the next level.
Discover Yoga Teacher Training now
Will you be fully vaccinated soon? Or have you taken your COVID-19 vaccination and are looking to travel sometime in the near future?
As vaccines are being rolled out across the world, it brings the promise of a return to our pre-pandemic life, or, at the very least, something close to it.
That said, it's important to keep in mind that while these shots do come with some protection against the virus, some regulations, such as lifting the mandated use of masks, may not be happening as soon as we'd hoped.
You're probably wondering, under these circumstances, how to best plan and pack for a vacation – say for a much-awaited yoga teacher training course?
In this article, we're sharing using useful information that may just help you plan your trip with an added peace of mind. You'll find insights on:
How COVID-19 vaccines work;
The types of vacations that are "safer" to take;
The entry requirements for the top yoga teacher training destinations favored by our customers.
What Should a Vaccinated Traveler Keep in Mind?
From what we've gathered from authoritative sources, all of the available COVID-19 vaccines are quite effective at reducing the risk of serious symptoms or death from contracting the virus. (source)
However, you can still get infected, and there's not enough data yet available regarding transmission.
The good news is that recent studies have shown the vaccines likely reduce virus transmission to other people in addition to protecting the person who received the shot. (source: Reuters ; Forbes)
Should you choose to travel sometimes in the near future, it's highly advisable to continue to take health & safety precautions, such as wearing a mask, washing your hands often, and maintaining the practice of physical distancing.
While it's not mandatory, you should also consider getting tested 3 to 5 days after arrival and self-isolate for 7 days, even though you are fully vaccinated. We are still unsure as to how much protection the vaccines offer against the new variants of the virus (and the strains continue to emerge), so, it's always better to be safe.
In short, being fully vaccinated does give you more 'freedom' and peace of mind when it comes to travel but it's in you & your fellow travelers' best interest to maintain precautions when traveling.
Not only is it crucial for us to 'adhere' to local rules but also to keep personal consideration and precaution for the sake of your and other's health and safety.
What Type of Travel Is Recommended for a Yoga Teacher Training Course?
Even if you are fully vaccinated, these days, the type of travel you choose to take matters more than ever.
Domestic travel has been returning slowly but steadily starting last summer. With the rollout of vaccines, countries that are likely to reach herd immunity faster, may be a 'safer' choice for locals and non-locals alike.
Many travelers are now choosing destinations that are off-the-beaten-paths, those that are away from condensed cities, and often, these places are immersed in nature.
A teacher training course in nature is a great choice for any traveler. Some retreats are easy-going while others go above and beyond to offer a wealth of activities. But no matter where you choose to go, it is easy to combine other outdoor activities such as walking, cycling, or running with your yoga, practice, and teaching sessions.
To get to your travel destination, road trips are recommended as non-public transportation is 'safer' than using public transportation. In fact, according to the CDC, fully vaccinated travelers who go on a road trip and are moderately careful at the destination, would have a relatively 'safe trip'.
Another way to lower risk is to choose to visit a country that is waiving restrictions for fully vaccinated travelers. At the time this article was written, only a handful of countries have gone this route, but, as summer approaches and the vaccine passports are likely to become a reality, more and more countries would consider this option to open for travel.
Many travelers are eager for this to happen, too. According to a survey by The Points Guy & YouGov, 49% of Americans would prefer to visit a destination requiring COVID-19 vaccination. (source)
Lastly, should you choose to travel internationally, it's better to focus on visiting one country, rather than opting for a multi-country itinerary. Now is the perfect time to focus on slowing down, taking longer to explore a country, immerse in its culture and traditions, and discovering local gems.
»Read more: Traveling Safely – Your Guide to Yoga Teacher Training Courses in the COVID-19 Era
What a Vaccinated Traveler Should Expect When Planning a Yoga Teacher Training Course in Top Destinations?
While countries across the globe are starting to slowly ease restrictions for fully vaccinated travelers, we strongly advise those who decide to travel to seek out local resources before they take any decision to book a teacher training course.
Currently, there are no standard recommendations across the countries and the information constantly changes.
That said, across the world, "vaccine passports" are likely to be used as a standard way to prove a traveler's COVID-19 status.
The European Union has already announced the launch of the EU Digital Covid Certificate. It is designed to allow freedom of movement across the block. Already, 12 countries are using it – Austria, Bulgaria, Croatia, Czechia, Denmark, Estonia, Germany, Greece, Latvia, Lithuania, Poland, and Spain- with the rest of them set to implement it by July 1. Some countries from outside the block – including Iceland, Liechtenstein, Norway, and Switzerland – have already tested it, too.
The certificate will be issued either in digital or paper form. EU citizens, their families, and legal residents are, so far, allowed to use it. Aside from proof of vaccination (with EU-approved vaccines), the certificate will also include recovery from COVID-19 documents and negative test results – lateral flow and PCR.
It's also important to keep in mind that while the entry requirements into a certain country might not include showing a negative test, the airline might require one to board the plane. Do your due diligence and check the requirements ahead of time so that you can plan accordingly.
Disclosure: Please be aware that the information below is valid at the time this article was published and changes in travel requirements & restrictions can occur at any time.
Photo credit: Yoga Weeks
Starting on June 7, Spain allows vaccinated travelers from all over the world to enter the country (including EU, UK, and US citizens).
All passengers must complete the FCS Health Control Form.
Passengers from certain countries are required to quarantine. From May 1, 2021, travelers from India must remain in quarantine for 10 days after their arrival in Spain (or for the duration of the stay if it's shorter than that). They may test out of quarantine on day 7.
All passengers arriving in Spain from a country / zone of risk must have a valid health certificate, which can be a COVID-19 vaccination certificate, a negative test taken within 48h before arrival, or a recovery certificate.
Unvaccinated passengers must undergo a diagnostic test to enter Spain (PCR or rapid antigen), within 48 hours before their arrival.
Passengers who have a valid EU Digital COVID Certificate and who add it to the Spanish Health Control Form, will obtain a QR code FAST CONTROL that will facilitate a speedier health control upon arrival.
Children under 12 are exempt from presenting the certificates. However, they a health control form must be filled in their name.
»Read more details from official resources
As of June 9, France will reopen for international travelers, removing the need for coronavirus tests for vaccinated Europeans and allowing visitors from most of the world (including the USA).
Vaccinated travelers from "orange countries" – including the UK and USA – will no longer have to quarantine if they are vaccinated but still need to present a negative PCR test (taken no longer than 72 h prior to arrival) or antigen test (48h). European Union citizens and citizens from other countries in the "green" list don't need to undergo testing if they are vaccinated. (source)
»Read more details from official resources
Photo credit: Indiv Yoga Switzerland
With the exception of European Area nationals, passengers are not allowed to enter mainland Portugal.
Those who may enter, are required to complete an electronic Passenger Locator Form (except if you are flying into the Azores or Madeira), to be presented upon boarding.
Passengers flying into the Azores should complete the Questionnaire for Risk Assessment and Early Detection prior to boarding. Whereas those flying into Madeira should register their travel here.
All passengers transiting or arriving in Portugal must have a negative RT-PCR COVID-19 test, taken at most 72 hours before departure.
Since February 18, Madeira, an autonomous region of Portugal, is operating a corridor for travelers that have recovered from COVID in the past 90 days or can show proof they have been vaccinated by presenting an immunization certificate.
This has to be in English and must include the name, date of birth, type of vaccine, and the date(s) when it was administered. There's no need to also show a test result.
»Read more details from official resources
Before traveling to and from Morocco, check with the airline and the public institutions (i.e. embassy, consulates) about specific measures required.
Passengers originating from or with a past travel history from 26 countries (including the United Kingdom) are not allowed entry into Morocco until at least May 21, 2021.
Travelers who are not residents and who do not need a visa to enter Morocco (including United States citizens), are authorized entry based on either an invitation from a Moroccan company or a confirmed reservation of a hotel and tourist establishment (including Riad).
Starting from September 30, 2020, all passengers 11 years old and older arriving into Morocco must present a negative COVID-19 test taken no longer than 72 hours before boarding.
All passengers must complete a passenger health form, print it, and sign it, to be presented upon arrival in Morocco.
»Read more details from official resources
Photo credit: Vinyasa Yoga Ashram
Travelers are allowed to enter India if they are citizens, PIO* cardholders holding passports of any country, as well as all foreign nationals intending to visit India for any purpose (including their dependents on the appropriate category of dependent visa) except those on Tourist Visa.
International passengers from flights originating in all countries with the exception of Europe, UK, and the Middle East need to submit a self-declaration before travel.
They also need to upload a negative RT-PCR report for a test taken no longer than 72 hours before traveling. A declaration with respect to the authenticity of the report must also be submitted.
All passengers need to abide by the decision of local authorities to quarantine / self-monitor at home.
»Read more details from official resources
*PIO = Person of Indian Origin
Photo credit: Yoga Vidya Mandiram
Travelers from countries or territories exempt from having a visa to travel to Thailand for tourism may enter the country for a period of maximum 45 days.
The traveler will need to present various documents, depending on their country of origin, including, but not limited to:
A certificate of Entry (COE) issued by the Thai Embassy in the area where the traveler first embarks on the journey (can be requested here);
Fit-to-travel medical certificate;
Medical certificate with a negative COVID-19 lab result (using RT-PCR test), issued no more than 3 days before the departure;
Proof of booking confirmation to stay in quarantine for 7 days (8 nights), 10 days (11 nights) or 14 days (15 nights), in a government-approved facility, depending on where the travelers come from and whether they are vaccinated or not.
US nationals may check the Royal Thai Embassy in Washington website for updated entry requirements to Thailand; UK nationals should check the Royal Thai Embassy in London website. Nationals from other countries that may enter Thailand are urged to check the requirements at their respective embassy.
In an effort to boost up tourism, a yacht quarantine scheme has also been introduced. Visitors who have a negative COVID-19 test can spend the quarantine period onboard a yacht or small cruise ship in Phuket. (source)
Thailand has approved 8 Covid-19 vaccines for travelers to shorten the quarantine time.
As of April, vaccinated travelers are required to upload their certificates of vaccination on the Foreign Ministry's website before arrival, after which they'll undergo only a 7-day quarantine. Un-vaccinated travelers will be subject to 10-day quarantine, while arrivals from several countries, including South Africa, will have to endure 14-day quarantine. (source) They must still submit a negative COVID-19 test result.
Starting in July, Thailand is starting a pilot program to allow international vaccinated travelers on the island of Phuket, without restrictions. To board the flight, travelers must present a negative COVID-19 test taken in the past 72 hours. They also must obtain online approval for entry. Showing proof of insurance with COVID-19 is also required.
Travelers will be taken from the airport directly to the hotel, where they'll be tested for COVID-19. Upon receiving a negative result, they'll be free to explore the island for a week. Then, they'll be able to visit the rest of Thailand, too.
On October 1, five more areas will open for vaccinated travelers: Phang-nga, Krabi, Koh Samui, Pattaya, and Chiang Mai. (source)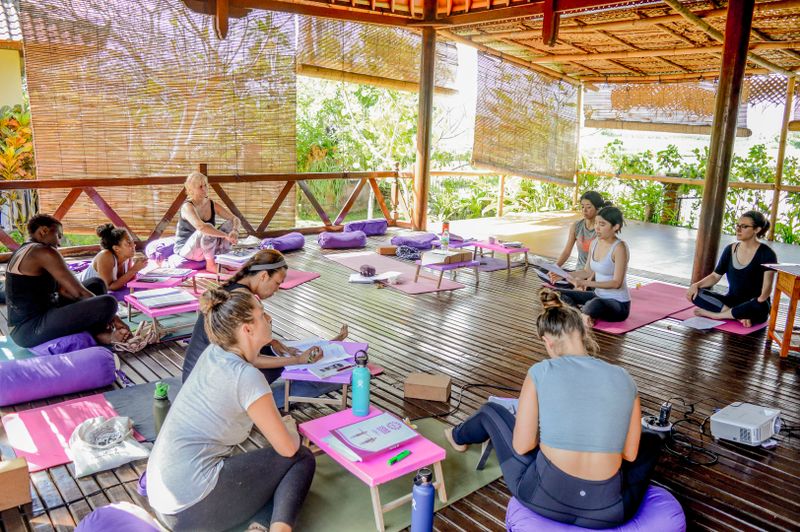 Photo credit: Parahita Alam Bali (My Travels Choice)
Visitors are not permitted to enter Indonesia, except for the following categories:
Holders of visa and stay permits issued according to the New Normal law, which is implemented since Sep 29, 2020;
Travelers permitted under the travel corridor arrangement (TCA) bilateral agreement scheme: United Arab Emirates (UAE), the People's Republic of China, the Republic of Korea, and Singapore;
Foreign nationals due to special discretion and provided with written permission from relevant ministries/government institutions.
All travelers permitted entry need to provide a negative RT-PCR COVID-19 test, taken no longer than 72h prior to departure. Upon arrival, they need to take another test. After 5 days in isolation / quarantine, a new test is required.
An electronic health awareness card must be presented upon arrival.
After the mandatory 5 days isolation, all international travelers are encouraged to undertake self-isolation at their respective residence up until a total of 14 days after arrival.
Please be advised that due to the COVID-19 pandemic, the Government of the Republic of Indonesia has temporarily suspended visa applications.
The government, however, is working on a plan to open Bali for foreign tourists by July. (source) Whereas the closest province to Singapore, the Riau Islands, plan to start reopening tourist spots in Nongsa on Batam and Lagoi on Bintan on April 21. (source)
»Read more details from official sources.
Photo credit: Sacred Paths Yoga
Mexico is open for travelers and there's no need to provide a negative test or quarantine upon arrival.
All travelers should fill in the "Questionnaire of identification of risk factors in travelers".
The inbound land borders with the USA are open for "essential travel" only and does not prevent US citizens to return home. This will be in effect until at least May 21, 2020.
US citizens can fly into Mexico without any restrictions. However, please be advised that a negative COVID-19 test, taken at most 3 days before departure, is mandatory to board the flight back to the USA.
Alternatively, documentation of recovery from the COVID-19 infection within the last 90 days, is required. (Official source).
»Read about the COVID-19 restriction and control measures in Mexico here.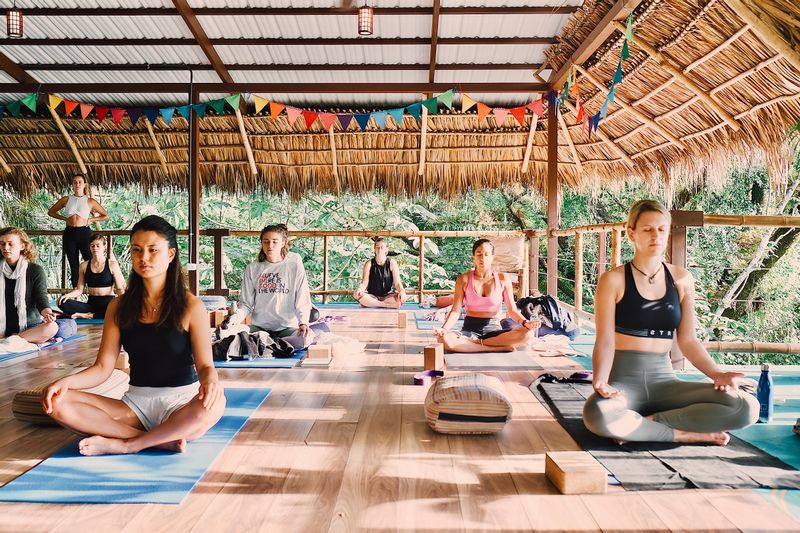 Photo credit: Vida Asana Yoga Retreat
Travelers from countries around the world can travel to Costa Rica by air, as long as they meet the visa and COVID-19 entry requirements.
There's no requirement to take any test before or after arrival, or quarantine upon arrival.
However, all travelers should complete the digital health form. And it's mandatory for them to purchase travel insurance, covering the accommodations in case of quarantine and medical expenses due to COVID-19 illness.
If the traveler purchases international insurance, a certification in Spanish or English should be issued and should include the validity, a minimum coverage of US$2,000 for accommodation expenses, and a guarantee of coverage for medical expenses.
Kindly note that visitors must abide by the re-entry rules of their country of origin (including the need to show negative tests upon boarding return flights).
»Read more details here.
Photo credit: Soma Yoga Institute
With specific exceptions, travelers from the following countries / areas are not permitted entry in the USA: China, Iran, European Schengen Area, United Kingdom, Republic of Ireland, Brazil, and South Africa.
All travelers who may enter, including US citizens returning from abroad and those transiting through the US, must have a medical certificate with a negative COVID-19 viral antigen, NAAT, RT-LAMP, RT-PCR, or TMA test result. The test must have been taken at most 3 days before departure.
Alternatively, if the passenger has a medical certificate with a positive coronavirus test result issued at most 90 days before departure and has been cleared to travel, they don't need to provide a negative test result.
All passengers must complete a disclosure and attestation form before departure. Those arriving into Massachusetts, must complete the Massachusetts Travel Form, whereas those arriving in New York State, must complete the New York State Travel Health Form.
»Read more information from official resources.
[Last Updated: June 17, 2021]
---
Looking forward to traveling once more? You can do so on a budget! Check out our selection of affordable yoga teacher training courses and choose the one that best fits your needs.