Why Should You Do Your Yoga Teacher Training in Costa Rica?
The go-to resource to prepare for your yoga teacher training. Find all you need to know about the top destinations and take your practice to the next level.
Discover Yoga Teacher Training now
A long time ago, the Spanish explorers arrived in a land full of wildlife and treasures. Amazed by the gold ornaments worn by the natives, they named it Costa Rica, which literally translates to 'rich coast'.
Nowadays, this beautiful country has gained popularity around the world thanks to its breathtaking natural scenery, its stunning beaches and the national slogan of Pura Vida – a mindful way of living that's perfectly aligned with the philosophy of the hundreds of yoga teacher training in Costa Rica.
Note: BookYogaRetreats offers a flexible cancellation policy. Should you not be able to travel as scheduled, we'd be happy to help you alter your booking with the same organizer or with a different organizer.
A paradise on earth to enhance your practice
Image credit: Nexus Institute
Since the year 700, the indigenous people known as the Diquís had inhabited the land of Costa Rica. But after the Spaniards arrived, this civilization became extinct.
However, they left intriguing remains of their time here: the Stone Spheres of the Diquís. These petrospheres found on Isla del Caño are among the greatest unsolved mysteries in the world. They consist of over three hundred balls of various sizes made of gabbro (a volcanic rock), carved by hand to a perfect spherical shape.
There are several myths associated with these indigenous relics. Perhaps the most popular is that gold, treasures or sacred objects with otherworldly powers are held in the center of them. But there's no actual proof of any of that.
So, it's only natural that Costa Rica has a unique ambiance of positive energy, which explains why yoga has flourished effortlessly in the country. The mysticism and exotic spirituality of this paradise make it one of the most enticing destinations for those who want to become yoga instructors.
Plus, Costa Rica is an excellent place to connect with Mother Nature. For instance, the most heavenly spot is Cocos Island, a true wonder of nature where you can find different species of sharks, dolphins, rays, turtles, octopuses and corals. Indeed, some consider it one of the most beautiful virgin places in the world. In addition, there are many protected nature reserves where jungle cats, exotic birds and monkeys live free in their own habitat.
What makes Costa Rica the perfect place for a YTT?
Costa Ricans are a mix between indigenous people and Spaniards, plus a dash of Chinese and Jamaican influence, which results in one of the most vibrant cultures in the world.
They truly live by their Pura Vida philosophy, enjoying life, appreciating the little details and celebrating the good fortune of being alive. And if you need more proof of their good vibes, Happy Planet Index Making has ranked Costa Rica as the happiest country in the world in three different years (2009, 2012 and 2016). Sounds like a good place to embrace the yoga philosophy, eh?
This happy feeling makes it easier for yogis to put Santosha into practice. For those who aren't familiar with this term, Santosha is an ethical concept in Indian philosophy, particularly yoga, that seeks contentment and satisfaction. Moreover, Costa Ricans totally embody the non-violence key virtue of Ahimsa, as they banned recreational hunting in 2012 and do not have an active army since 1948.
Image credit: Nexus Institute
Want to really clean your lungs through Pranayama? The air in Costa Rica is among the cleanest on the planet. Today, 98.53 percent of the energy used in the country comes from renewable sources and they plan to get to 100 percent by 2021.
Choose the right town to do your training
Now it's time to choose the location for your yoga teacher training. While Costa Rica might seem small on the map, it's actually pretty big. That said, when it comes to yoga, there are three main provinces to consider:
Image credit: Rima the Jungle Girl
Puntarenas is a coastal province with mountains and jungle. The most popular city is Puntarenas, a lively town with gorgeous coastlines and nice coffee shops.
It's less than an hour away from San Jose, the capital city, and it's also the favorite beachfront destination in the country with plenty of beach yoga retreats available. Since it is suitable for all tastes, in Punta Arenas you'll come across all kinds of tribes, from surfers to nature lovers, hikers and, of course, yogis.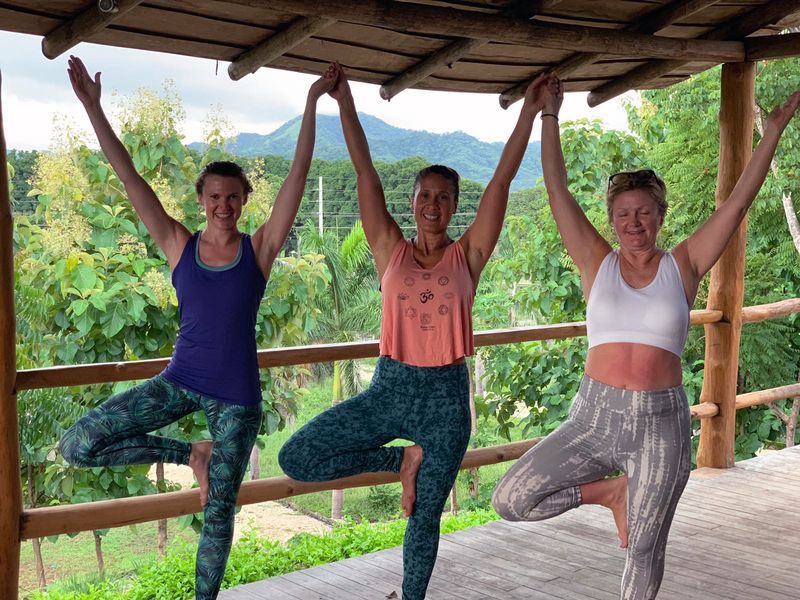 Image credit: El-Sabanero Eco Lodge
Another popular province in Costa Rica is Guanascate; it feels slightly different from the rest of the country since it used to be part of Nicaragua. Today, it's a tropical paradise for many travelers who come to admire its stunning mountain ranges, pristine shoreline and impressive volcanoes.
Image credit: Caribe Yoga Academy
Limóm province is one of the most beloved places in Costa Rica for yogis, particularly Puerto Viejo de Talamanca, a laidback beach town with a vibrant nightlife and a cheerful atmosphere; definitely a nice place to spice your teacher training with a little bit of adventure.
With the famous Salsa Brava surf break, a jaguar rescue center and black-sand beaches, this region is also one of the favorite destinations to mix your yoga practice with a little bit of surf.
Can't decide which teacher training course to choose? Read this post to decide how many hours you should do for your yoga teacher training.
What to really expect from your trip to Costa Rica?
Most countries in Central America are suitable for any budget, but this is not the case with Costa Rica. While it is still affordable compared to North America or Europe, the reality is that things can be a bit overpriced because of the great number of visitors who come every year. The good news is that the roads are better than you'd expect; there are well-maintained gravel roads and excellent highways to travel around the country.
Costa Rica also has one of the best healthcare systems in Latin America, reliable internet connection, cable television, malls, movie theaters, potable water almost everywhere and tour guides that usually speak good English.
Lastly, regarding the best time to visit Costa Rica, you just need to know that there are two main seasons in the country: the rainy season from May to November and the dry season from December to April.
Since most people prefer to travel during the dry season, traveling during the rainy season has the advantage of being cheaper and less crowded. If you chose to do so, just remember to bring a good raincoat and a waterproof dry bag.
---
Make your yoga dreams a reality. Browse our vast options of yoga retreats in Costa Rica and choose the one that is right for you!