What Should You Expect from Your Yoga Teacher Training?
The go-to resource to prepare for your yoga teacher training. Find all you need to know about the top destinations and take your practice to the next level.
Discover Yoga Teacher Training now
Want to make a living with yoga? Looking for the best way to deepen your practice? Completing a yoga teacher training course is the first step towards becoming an instructor.
But what should you expect from it? Read on and learn more about the fabulous experience that awaits you!
What options do I have?
The first thing you need to know is that there are two different ways to search for an ideal yoga teacher training course that suits your needs & preferences.
One is to look for a registered school in your hometown and attend all the classes required by the program. This could take up to six months depending on how many hours you take per week.
The second option is to go on a retreat where you'll practice intensively for about 3-4 consecutive weeks. If you have the time, this is the most recommended option to become a yoga teacher. Not only would you get your certificate in a shorter period of time, but you'd also immerse in a more holistic way to approach yoga. From learning all aspects of yoga to connecting with fellow practitioners and adopting a healthier diet, this alternative offers a unique life-changing experience.
For those who can't take too much time off from work, there are several programs that last less than two weeks. These are very popular, especially in the USA.
Why is a retreat a better option?
There's just something different about doing your yoga teacher training in a secluded place, away from the hustle and bustle of the city. Leaving all preoccupations behind, to solely focus on your practice, allows you to fully embrace the transformation you're about to begin.
Becoming a yoga teacher isn't only about getting better with your asanas, it's about becoming a better human being overall. You start your course as a yoga enthusiast who might already be able to strike a few inversions, and you leave the venue as a renewed person with improved skills on and off the mat.
On a retreat, you learn a more holistic approach to yoga. Unlike in a local school in your hometown, during these retreats, your meals are taken care of, which normally consist of vegetarian or vegan dishes to nourish your body following the principles of Ahimsa.
You don't have the temptation to add a greasy or sugary treat and, since the food is so delicious, you won't even think about it. So, this is a great way to kick start a new healthier life and adopt a diet that will help you perform better in yoga.
Another important advantage is the opportunity you have to bond with fellow yogis. Culturally, you can enrich your experience and develop a more diverse way of teaching by exchanging ideas with peers from different parts of the world; professionally, you immediately expand your network of yoga teachers, which could be quite helpful as a novice yoga instructor.
Lastly, well, it's quicker and gets you ready to start teaching right after your course!
How are the classes and schedule?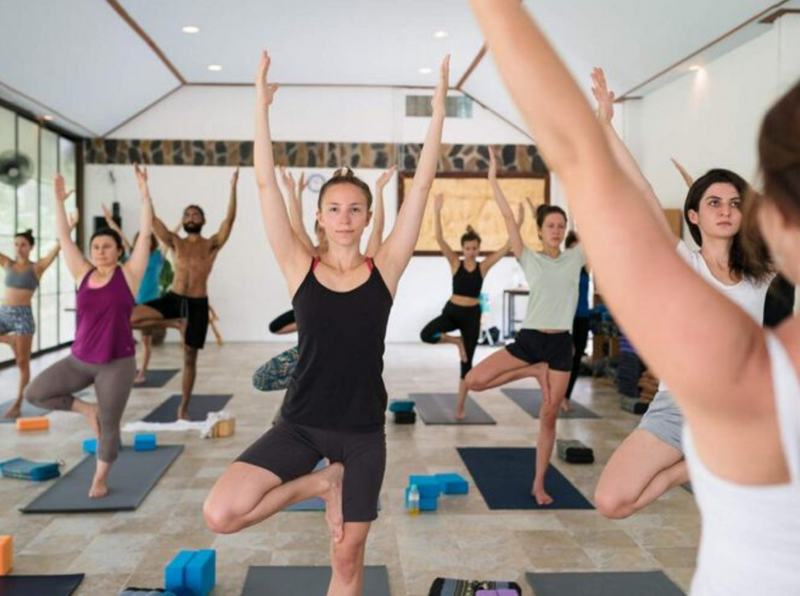 Depending on which kind of training you choose and the certificate you're aiming for, you'll have to comply with different standards. If you want to know how many hours to choose for your yoga teacher training, read our guide and learn more about the differences between 200, 300 and 500-hour courses.
Whether you opt for a 200-hour or a 300-hour course, the standards to get a Yoga Alliance certificate are divided into 5 main areas:
Techniques, training and practice
Teaching methodology
Anatomy and physiology
Yoga philosophy, lifestyle and ethics
Practicum
During a 200-hour course, you should do a minimum of 180 hours in front of a YA faculty member. These are called "contact hours". In the case of a 300-hour course, at least 270 of those should be "contact hours". This means that, if you sign up for a 3-week yoga teacher training, you'll dedicate around 8 hours a day on practice and lectures if you want to become a 200 Registered Yoga Teacher.
With all this considered, a regular daily schedule could look like this:
7:00 am Asana session to learn proper technique
9:30 am Breakfast
10:30 am Lecture on yoga philosophy or anatomy
1:00 pm Lunch
3:00 pm Lecture on teaching methodology
4:30 pm Asana session
6:30 pm Dinner
8:00 pm Feedback and meditation session
*This is just an example of how your schedule could look like. To be certain about your daily activities, check the specific details of the retreat of your preference or contact the organizer.
So, can I start teaching right away?
Yes, a 200-hour yoga teacher training automatically gives you the necessary experience – and credentials – to lead a class and spread your love for yoga right after you finish your course. However, some studios make it mandatory for all instructors to have a certification to be able to teach there.
If you plan to teach in the USA, it's recommended that you make sure the course you choose offers a Yoga Alliance certificate. This way, you won't have any restrictions to start your new career. That said, there are also plenty of studios that don't require a Yoga Alliance certificate and whichever diploma you receive should be enough.
Last piece of advice
Whether you want to become an instructor or just want to have a deeper understanding of yoga, it's important to be aware of the challenge you're about to undertake. As rewarding as it will be, it'll also need a big commitment from your end.
Do your due diligence and get to know the yoga teacher that will lead you on this journey. He/she will be your mentor and could make or break all your potential.
Best of luck on this incredible transformation!
---
Want to become a seasoned instructor? Why not consider joining a Yoga Alliance Certified Yoga Teacher Training?