Yoga Teacher Training in India: 6 Things You Need to Know Before You Go
The go-to resource to prepare for your yoga teacher training. Find all you need to know about the top destinations and take your practice to the next level.
Discover Yoga Teacher Training now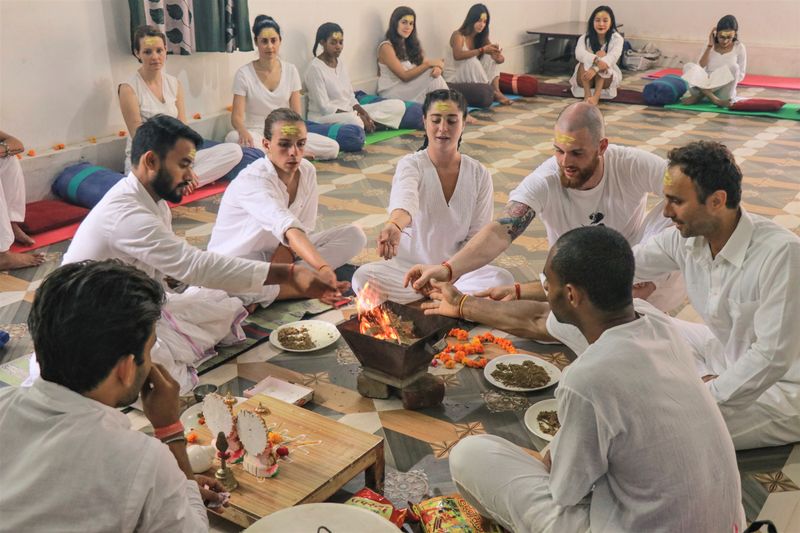 Considering of joining a yoga teacher training course in India? While you're bound to transform your life forever, there are just a few things you should know before your trip.
India is widely considered as one of the most spiritual places on Earth and it's easy to see why. It is home to several of the most sacred sites in the world like the Taj Mahal, Varanasi, Rishikesh or the Ellora and Ajanta Caves; there's a huge number of people professing all major religions in India; it's the birthplace of Jainism, Buddhism, Hinduism, and Sikhism; and of course, India is where yoga started.
That's why it's not surprising that many highly influential personalities have come to India looking for a spiritual awakening. Steve Jobs, Mother Theresa, Mark Zuckerberg, or even Jesus (according to some debatable theories) are some examples of people who have been touched by the exceptional mystique of this country. And that's why it's not surprising either that yoga teacher training programs are abundant all over its territory; from Goa to Chennai, from New Delhi to Kerala.
So, if India is so wonderful and spiritual, how come there is this joke that India is an acronym which stands for "I'll Never Do It Again"? Well, it might very well be due to the fact that there are many differences compared to the western world, which could be overwhelming for new visitors.
If you're well-informed before your trip to India, you won't be surprised by these differences and you'll be able to focus on the many more positive aspects that this country has to offer.
Check out these 6 tips to know before going to India and get ready for a one-of-a-kind experience!
1. Have an open mind; yoga won't be as it is in the west.
Even though many people come to India to find inner peace, it's important to be aware that it isn't a magical place full of yogi unicorns and peaceful bald gurus meditating under the rainbow. India has a huge diversity and lots of different traditions that can catch you by surprise if you're expecting to encounter the typical western yogi culture.
Don't expect fancy facilities. Although you'll get all the basics you need during your stay, most venues are quite simple and don't have the luxurious settings that you might expect in other countries. You could also find yourself doing your asanas in a jam-packed room; try to find a spot that makes you feel comfortable and be respectful of other people's personal space.
This might be obvious, but stereotypes can be tricky; there are Indians who don't practice yoga, just as there are Germans who don't drink beer or Italians who don't eat pasta. Be respectful of all religions and their habits. Most importantly, don't judge and keep an open mind.
Know that every city in India is different. Rishikesh is a holy place where you should show the utmost respect, that's why many practitioners come here to deepen their knowledge on a yoga teacher training. On the other hand, Goa, for example, is more laid-back and could be a better place for a relaxing yoga weekend.
2. Dress conservatively when visiting religious sites
India has many sacred places, and these sacred places normally have a dress code that you should always follow even though it might not align with your beliefs. Women should cover up and dress modestly while men should also wear proper clothes.
Do not wear provocative clothing in rural areas where people can be more conservative. You may not agree with their way of thinking, but you're not there to change it.
Always remember: When in Rome, do as the Romans do; when in India, do as the Indians do.
3. It's going to be hot! So, don't drink tap but do drink a lot of water.
Image credit: Kwik News
India can get really hot. Some regions can reach temperatures as high as 123 °F (51 °C)! So, be prepared to be sweaty while you do yoga and be careful of dehydration.
Just be careful with tap water and try to avoid it as much as possible as it isn't completely safe. You might be totally fine if you do drink it, but it's better to prevent the risk of an illness that can completely ruin your trip.
Always carry a bottle of water and consider drinking mineral water to get the salts your body needs. Mineral water bottles are easily available everywhere and most yoga centers will provide you with filtered water.
Keep in mind that water can also help take off the heat you'll find in spicy Indian food; coconut water is a good alternative to stay hydrated, too.
4. Be assertive and direct rather than too polite when talking to people on the street
Due to the conservative culture in some parts of India, you don't want to send the wrong message when talking to people on the street. It's better to be assertive, show confidence and don't try to make small talk. This doesn't mean that you should be rude, just be as direct as possible in a polite way.
Avoid asking leading questions that can result in inaccurate information. Don't let people answer with a yes or no, they might try to be nice and just give you any answer.
Let's say you decided to explore Rishikesh during your time off and got lost, instead of asking "is the ashram this way?", change it to "how can I get to this ashram?"
5. Learn some Sanskrit
Some instructors in India only use the Sanskrit names of the yoga poses. You could get a bit lost during the sessions at the retreat if you're not completely familiar with these terms.
Learn the basic terms in Sanskrit, get familiar with the poses you know you can do and, if you don't remember something in class, don't panic and just look at your peers around you and imitate their moves.
6. Carry cash & keep it safe
Credit card terminals are almost everywhere in the world, but there are many street markets too where you most likely will depend on cash. Be prepared and bring enough money in your pocket. Shopping in India can be quite an experience; don't be shy of bargaining, it's a normal thing to do. Some sellers even give higher prices to tourists testing if they will immediately purchase their goods.
India is a safe place as long as you take normal precautions. Be careful with your cash, there are pickpockets everywhere in the world – and this includes India.
An Indian 'Bonus'
Don't miss out on watching at least one Bollywood movie. If you've already traveled all the way to India for a yoga holiday, get the full experience and truly immerse in the culture!
And lastly, trust the organizers and teachers at your yoga retreat, they probably have better advice than anything you'll read online.
---
Ready for your spiritual awakening surrounded by the Indian mystique? Book a yoga teacher training in India!