Top Summer Destinations for Yoga Teacher Training Courses
The go-to resource to prepare for your yoga teacher training. Find all you need to know about the top destinations and take your practice to the next level.
Discover Yoga Teacher Training now
Summertime is calling all yoga teachers, existing and future, to bask in the sun while enhancing their practice.
Expand your world beyond asanas and get to know more than just yoga philosophy. Explore stunning destinations and immerse in the local culture, while you bring your practice to a sunny destination.
There are many yoga teacher training courses held during summer in stunning destinations across the globe. If you want to embrace the hot temperatures then soak up the sun and frolic in the sand; whereas if you want to escape the scorching heat, choose the mountains.
From the European islands to the Asian jungles and the cosmopolite Northern American vibrant cities, here are the top destinations for yoga teacher training in summer:
Note: BookYogaTeacherTraining offers a flexible cancellation policy. Should you not be able to travel as scheduled, we'd be happy to help you alter your booking with the same organizer or with a different organizer.
We strongly advise you to check your local embassy and/or your destination's official government websites for the travel restrictions and entry requirements in the area you plan to visit before booking.
Photo credit: Durga Excursions
Located in the western Mediterranean Sea, just off the coast of the Iberian Peninsula, the Balearic Islands comprise the major islands of Mallorca, Menorca, Ibiza, and Formentera, as well as minor islands and islets.
The four main islands are popular travel destinations, attracting visitors because of their Mediterranean climate, lush natural landscapes, charming villages, and incredible nightlife.
June to September are the hottest months, with average daytime temperatures ranging from 26.5C (79.7F) to 29.8C (85.6F). There's plenty of sunshine and little to no precipitation.
Ibiza is the star of this archipelago. Despite its reputation of being a party island, you shouldn't be surprised to find quiet beaches, beautiful sunsets, and a charming Old Town.
Its popularity has attracted yoga teachers from all over the world so you are guaranteed to practice your asanas guided by top-notch instructors.
If you are looking for a beautiful, sunny location, and, why not, a party or two during your stay, then this is the best place to head to for a yoga teacher training course in Spain.
» Read more: Top Yoga Teacher Training Courses in Spain
Photo credit: Bend it like Buddha Yoga
The southernmost region of continental Portugal, the Algarve is the country's biggest and most important tourist region.
Due to the high quality of life, great weather, and cultural significance, the region is also sought after by expats from colder European regions. And is considered one of the world's best place to retire.
The area has an Atlantic-influenced Mediterranean climate and is the warmest place in Southern Europe. While it has recorded scorching hot temperatures during summer, from June to September, the average high ranges from 26.4C (79.5F) to 29.2C (84.6F), although they can easily jump to 32–35C (90–95F) in the interior.
Despite its popularity, the Algarve still has some hidden gems that are perfect for a yoga teacher training course. You can stay in the heart of a nature reserve and have access to empty beaches, reconnect with yourself, slow down, enjoy your surroundings, and learn how to surf.
Doesn't this sound like a great place to do your yoga teacher training course in Portugal?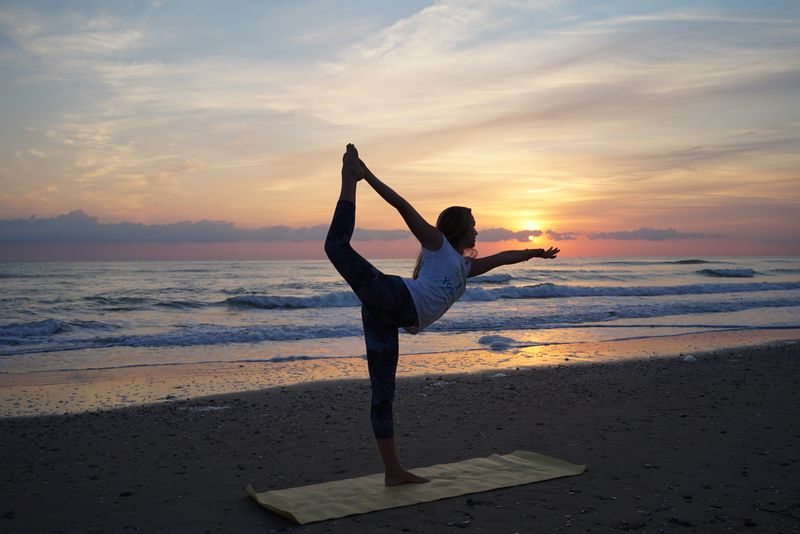 Photo credit: YOGAMEA
Comprising the historical regions of Emilia and Romagna, this Italian region is home to the gorgeous historic city of Bologna, the medieval town of Modena, and the beaches of Rimini.
It's also where you can find one of the still unspoiled regions of Italy: Tuscan Romagna, where hilltop villages are waiting for you to explore.
July and August are the warmest months, but the average temperatures are highly dependent on the area you visit. It's less scorching in the hills and the breeze will make the sun bearable on the coast. Expect averages of 30C (86F).
Its delicious cuisine, fantastic weather, and lovely landscape are good enough excuses to pack your bags and join a yoga teacher training course in Emilia-Romagna. Whether you prefer to do your asanas on the beach, or you enjoy the tranquil countryside, this area is just perfect for your next yoga training.
»Read more: Top Yoga Teacher Training Courses in Italy
Photo credit: TK Yoga Retreat
The southernmost administrative region of France, Occitanie was created in September 2016, from the former regions of Languedoc-Roussillon and Midi-Pyrénées.
Its vastness gives the region a formidable advantage; there's a lot to do here, regardless of what you prefer. The sunny days abound and there are a lot of gorgeous natural places to explore. And if you fancy exploring some cute little towns or imposing medieval castles, you won't be disappointed either. After all, France is the most visited country in the world.
The climate is oceanic, with a year-round average of around 15C (59F). July and August are the hottest months, with average temperatures of 28C (82.4F). And while the temperatures are lovely and it's sunny for up to 10 hours per day, expect some precipitation (up to 11-12 days each month during summer).
Whether you choose a yoga teacher training close to a city or prefer the calmness of the mountains or the sun-soaked beaches, you are guaranteed to enjoy everything about your time spent in Occitanie.
Photo credit: Soma Yoga Institute
The Cyclades are a group of islands in the Aegean Sea. Among them, the stunning Santorini and Mykonos are world-famous. Laid-back Paros and Naxos, on the other hand, offer a respite from the crowds.
Particularly known for their architecture – white-washed houses with blue domes and colorful window shutters – the Cyclades have been attracting visitors for decades. And if you need even more photo opportunities, don't forget to explore the black beaches of Santorini.
Blessed with a Mediterranean climate, the islands have a moderate weather year-round. In July and August, the daytime temperature ranges between 22C (72F) and 28C (82F). And while the temperature may climb higher, even during heat waves, the temperatures won't be higher than around 34-35C (93-95F).
The amazing food, beautiful beaches, traditional villages, and relaxing atmosphere make the Cyclades an astounding choice for a yoga teacher training course. And if you want to spend time on a less crowded island, Paros should be top on the list.
»Read more: Top Yoga Teacher Training Courses in Greece
Photo credit: Yoga Teacher Academy
The Golden State is, by far, the most popular destination for a yoga teacher training course in the United States.
A worldwide trendsetter in popular culture, it is the home of Hollywood, splendid beaches, jaw-dropping mountains, great wineries, and astonishing national parks. The abundance of various landscapes offers just as many chances for stunning trips.
While most of the state has a Mediterranean climate, due to its vastness and diversity, the climates range from polar to subtropical. Head over to the beaches and you'll enjoy a balmy 24C (76F) during the day even in August; venture into the mountains and you'll have to add some layers as temperatures can be as low as 16C (62F) during the day.
Should you be looking for the hippest place for yoga teacher training, where world-renowned instructors have come to share their experience with other yogis, your best choice is a yoga teacher training course in California.
»Read more: Your Guide to Yoga Teacher Training in the USA
Photo credit: Soma Yoga Institute
Located in the northwestern region of the country, along the coast of the Pacific Ocean, Guanacaste is the most sparsely populated of all the provinces of Costa Rica.
It's also incredibly beautiful featuring volcanoes, mountains, beaches, and splendid tropical dry forests.
Its climate is unique and has two seasons: a dry, hot one from November to April; and a wet and moderately temperate one from May to October. Sitting in the lowlands, Guanacaste has a dry, arid climate and even though there may be daily showers, the province is a lovely choice for a yoga teacher training course when during the colder country's summer.
The average high temperature is almost the same year-round, but from June to August, expect it to stay close to 32C (89F). It may rain quite often (17 to 19 days each month) and the humidity is high (80-82%).
Whether you fancy striking asanas on the beach as the sun is rising (or setting) or you want to enjoy the natural surroundings in the national parks, you'd be delighted to find those and more at yoga teacher training courses in Guanacaste.
And that's not all! The beaches also offer great opportunities to learn how to surf, and the hiking trails will lead you to spectacular waterfalls.
»Read more: Top Yoga Teacher Training Courses in Costa Rica
Photo credit: EarthSea Yoga
An island off the east coast of Thailand, Koh Samui offers a lovely mix of tropical jungle, mountains, and coastal areas. It's the second-largest island after Phuket and a very popular tourist destination.
The jaw-dropping landscape, the lush green forests, and the strikingly different blue sea make Thailand a favorite destination for those seeking to do their yoga teacher training in Asia.
Koh Samui has a tropical monsoon climate, with temperatures above 18C (64 F) year-round. In fact, the average daily temperature is close to 28C (82F). The climate is warm and humid most of the year, so anytime you visit would pretty much be the same.
During the colder country's summer, expect daily highs of around 32.1C (89.8F) and about 12 days of rain each month.
When in Koh Samui, you'll be close to a beach no matter where you stay. There are plenty of opportunities to explore the island, soak up the sun, and, of course, strike your asanas on the beach. Sample the local foods and get to know the country's culture. Oh, and Bangkok is just a short flight away!
Photo credit: Living Yoga School
Without a doubt, India is the best place on Earth for yoga. And there are many reasons why you should do your yoga teacher training in Rishikesh. Its yogic tradition attracts thousands of aspiring instructors and advanced practitioners who want to truly immerse themselves in the yogic way of life.
A small town in the northern state of Uttarakhand, Rishikesh is located where the Ganges River comes down from the Himalayas.
It has a humid subtropical climate, averaging a maximum of 40C (104F). July and August are the wettest months.
The birthplace of yoga is a lovely choice to do your yoga teacher training. Weather permitting, there's something magical about striking your asanas or meditating by the river's bank with the backdrop of the Himalayas.
And if you feel adventurous, you can go trekking on trails that lead to stunning waterfalls. Or try your hand at kayaking and whitewater rafting.
»Read more: Top Destinations for Yoga Teacher Training in India
Photo credit: House Of Om
Authentic yoga vibes, a healthy lifestyle, healthy food, splendid landscapes, and world-renowned yoga teachers make Bali a great choice for your yoga teacher training.
On top of that, Bali is still on affordable yoga destinations and most programs are significantly more budget-friendly than the ones in Europe or North America.
The famous Island of Gods provides a picturesque backdrop to any vacation. Ubud is the center of art and dance, whereas Seminyak is the pricier choice with more upscale resorts.
Located just 8 degrees south of the Equator, Bali's climate is almost the same year-round. The average maximum temperature is 30C (86F) and the humidity reaches 85%. To get a respite from the heat, head into the mountains where the temperature greatly decreases.
During the Western world's summer, Bali sees its busiest time of the year. It will be nosy and crowded so it might be best to look for training courses that take place in isolated places on the island.
If you are looking for a destination that is aligned with the yoga philosophy, is a wellness hub, and offers a lot of holistic spa experiences, on top of the gorgeous scenery, superb beaches, and great weather, then you should do your yoga teacher training in Bali.
Hero photo credit: Yoga Retreats with Victoria Sky
---
Unable to travel right now? Join an online yoga teacher training course from the comfort and safety of your own home.