Top 10 Yoga Teacher Training Destinations for 2021
The go-to resource to prepare for your yoga teacher training. Find all you need to know about the top destinations and take your practice to the next level.
Discover Yoga Teacher Training now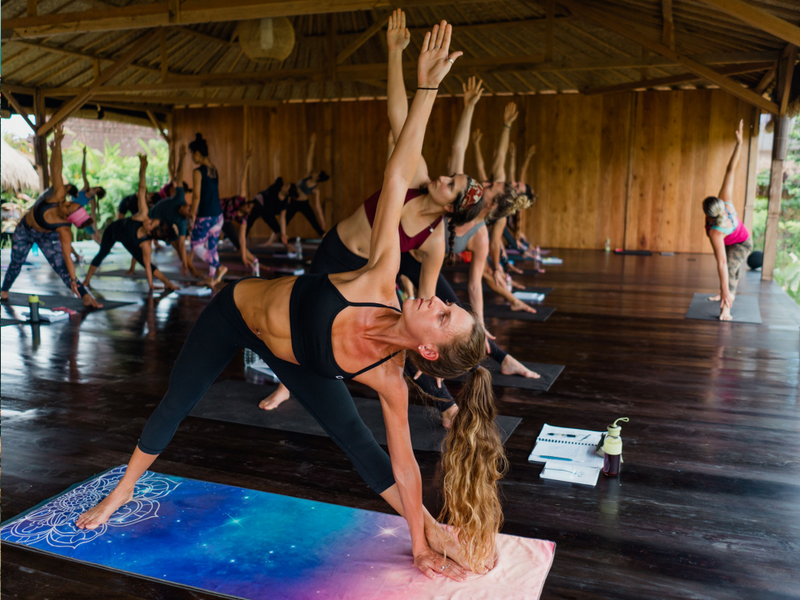 Without a doubt, 2020 hasn't been exactly the year we've planned for. Through it all, the practice of yoga has helped many around the world to cope with these uncertain times.
Things are already looking brighter for 2021. Across the world, some countries have reopened to visitors – albeit with strict restrictions in place. But this allows everyone to keep the dreams of traveling alive.
That's why, here, we are sharing the top 10 yoga teacher training destinations for 2021. Choose your favorites and add them to your bucket list for the upcoming year.
Note: BookYogaTeacher Training offers a flexible cancellation policy. Should you not be able to travel as scheduled, we'd be happy to help you to alter your booking with the same organizer or with a different organizer.
Disclaimer: At the time of writing, some countries are still subject to restrictions. While some countries have already opened for visitors, we strongly advise you to stay up to date with the latest COVID-19 restrictions from official government sources. Our list of countries is based on data over the last 12 months.
Photo credit: Yogi Hari's Ashram
The USA has a strong connection to yoga and is responsible for bringing yoga in the Western World. Hence, it's not surprising that yoga teacher training programs have exploded here in recent years.
Blessed with a myriad of landscapes, this vast country in North America offers excellent options for teaching programs. You don't even have to travel far, as there must be something close to home. Plus, some short yoga teacher training programs can be completed during an extended weekend.
The warm-weather states are, without a doubt, the most popular among yogis. In California, you'll find a hip place where world-renowned instructors teach various yoga styles. And with the same gorgeous weather, Florida not only offers a colorful atmosphere and stunning beaches but also excellent yoga teacher training programs.
For a more secluded experience, Hawaii offers the chance to do your training surrounded by lush vegetation and stunning beaches.
»Read more: Top Destinations in the United States to Do Your Yoga Teacher Training
Photo credit: Sacred Paths Yoga
Thanks to its extensive coast, gorgeous weather, and beautiful natural landscape, Costa Rica is the American center of yoga teacher training.
The world's best yoga teachers have chosen this marvelous country to teach a variety of yoga styles. Maybe it's the Pura Vida spirit that makes it so attractive, which perfectly aligns with the philosophy of yoga.
Embrace the mindful way of living and dive deep into the yoga practice. During your free time, enjoy hikes in lush forests and learn to surf.
Suitable for any budget, Costa Rica is generally more affordable than both Europe and North America. But if you are looking for a more luxurious yoga teacher training experience, head over to Guanacaste Province.
»Read more: Why Should You Do Your Yoga Teacher Training in Costa Rica?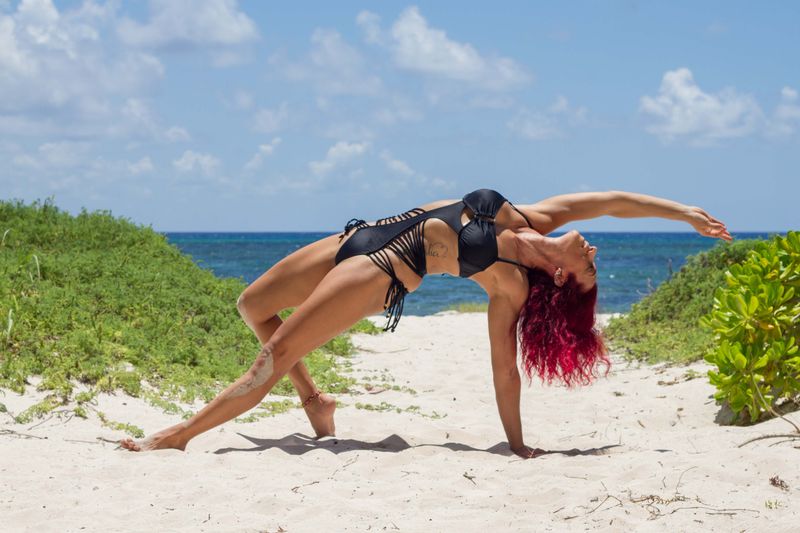 Photo credit: VY Vinyasa Yoga
Known for the colorful atmosphere of Mexico City, the scrumptious foods of Oaxaca, and the spectacular beaches on the Mayan Rivera, Mexico is a paradise for yoga lovers and an excellent choice to do your yoga teacher training.
You'll quickly disconnect and forget about the hustle and bustle back home. Plus, during your free time, there are plenty of archeological sites to check out and beaches to catch a tan on.
One of the most popular destinations to do your teacher training in Mexico is the Mayan Riviera, in the state of Quintana Roo. A well-known paradise for travelers, home to great beaches, and historical sites, it's also the perfect choice for your yoga teacher training. Strike asanas on the beach and, on your free time, explore the Mayan ancient sites.
Photo credit: Rise & Shine Yoga
This European country constantly ranks as one of the preferred yoga destinations in the world.
Its stunning beaches, colorful cities, sublime islands, and finger-licking foods have always attracted visitors. But it's also a paradise for yoga lovers. Not only yoga is a well-established form of physical and spiritual exercise in the country, but almost all practitioners say they feel better since taking it up.
The love for yoga and the gorgeous year-round weather have certainly helped to make it a great destination for yoga teacher training programs.
The country's jewel, Barcelona is filled with world-class museums and architectural wonders. But it is also a great place to enhance your yoga practice. The yoga teacher training courses usually take place in the hills surrounding the city. But you are still within easy reach of the bustling metropolis.
Ibiza may be known as the quintessential party island, but it has also attracted yoga instructors for a long time. It offers the chance to practice your asanas surrounded by stunning landscapes. And you can also enrich your practice with meditation.
»Read more: Top Yoga Teacher Training Courses in Spain
Photo credit: Yoga Flow Academy
Paris might be world-famous for its landmarks, café culture, and romantic vibes, but you should not be surprised to find excellent yoga teacher training programs in the whole country.
City or beach, mountain meadows or idyllic countryside, France has it all. Just imagine striking your asanas surrounded by the Alps or the Pyrenees.
The yoga lifestyle complements the way of living in this gorgeous European country. This means there are plenty of teaching courses to choose from no matter what setting you prefer.
Plus, during your free time, you can explore culturally rich villages, castles, hike on superb trails, and spend time on the beaches.
Photo credit: Yoga Academy International
Greece's relationship with yoga can be traced back to ancient times when it was an important center of spirituality. The temples and oracles are a testament to the age-old tradition of people looking for the tools to find themselves.
Nowadays, this gorgeous Mediterranean country is home to some of the best yoga teacher training programs in the world.
Some areas get mild weather year-round, while others transform into winter wonderlands. The sublime beaches, gorgeous natural surroundings, and scrumptious food will make any trip here special.
The largest of the Greek islands, Crete is the birthplace of the ancient Minoan civilization and home to the mythical Minotaur. Featuring the warmest weather in the country and world-famous healthy cuisine, it is a great place to strike your asanas and improve your yoga practice. Enjoy hikes in beautiful gorges and spend time on world-class beaches.
Santorini and Mykonos might be the stars of the Cyclades, but Paros is just as superb, yet not overrun by travelers. It's also an excellent place to do your yoga teacher training. And if you want a more wellness-based approach, you can opt to take part in healing sessions, sound meditations, and chanting.
»Read more: Top Yoga Teacher Training Courses in Greece
Photo credit: Bali Yoga School
The world's largest archipelago, Indonesia combines Zen-like vibes with incredible natural settings. It is also home to one of the world's most sought-after travel destinations: Bali.
Impressive religious sites, stunning volcanoes, superb beaches, rice fields, and a laid-back lifestyle make the Island of Gods one of the most popular yoga teacher training destinations in the world.
For those who aren't on a restricted budget and want to indulge a bit, Bali is a perfect choice. Plus, you're going to find yoga teacher training programs run by world-renowned teachers all throughout the year.
Another spiritual destination very popular among international travelers is Ubud. Because of this, Vinyasa, the style preferred by the visitors, is mostly taught here.
Due to the current pandemic, traveling to Indonesia is quite complicated. A negative PCR test is required but entrance is only permitted to foreign travelers that already have residency in Indonesia.
»Read more: Why Should You Do Your Yoga Teacher Training in Bali?
Photo credit: Yoga Vidya Mandiram
One of the most spiritual places in the world, India is all but synonymous with yoga. Home to several of the most sacred sites in the world, it offers plenty of yoga teacher training courses, yoga ashramas, and yoga retreats.
Rishikesh, the birthplace of yoga, offers a different experience from the rest of the country. You'll understand that yoga doesn't stop at learning asanas and you'll be encouraged to take the knowledge beyond the mat.
However, if you are looking for more luxury, head over to Goa. Made famous by hippies in the 1960s, it offers a different feel than Rishikesh. While its northern part is still about partying, the southern one is more about the Zen-vibes. Most yoga teacher training courses take place in retreats in the southern part.
Unfortunately, India has been hit hard by the pandemic and international travel is complicated for the time being. Providing a negative PCR test, however, would allow them to skip quarantine.
»Read more: Top Destinations for Yoga Teacher Training in India
Anahata Yoga Shala
A vibrant culture, unique laid-back feel, and a spiritual destination, Thailand features an abundance of yoga retreats and yoga teacher training courses.
It's the perfect place to do your training if you want to do more than just yoga. You can integrate natural healing, Thai massage, meditation, and Ayurveda in your program.
Between the tranquil beaches, intriguing jungle, and stunning mountains, Thailand offers a wealth of possibilities for yoga teacher training courses for all budgets.
The cultural capital of Chiang Mai may lack beaches but offers beautiful mountains and mystic vibes instead. If you are looking for something different, combine yoga teacher training courses with a specialization in emotional healing.
Thailand's yoga mecca is, without a doubt, Koh Phangan. Strike asanas on the beach or in the lush mountains nearby. Whatever you choose, you are guaranteed stunning places and isolation from the hustle and bustle of city life.
Equally enchanting is Koh Samui. A preferred destination for international travelers, this is where you'll find most foreign instructors teaching at retreats.
International travel to Thailand is possible but the rules for entering the country might not be ideal for everyone. Long-stay visitors are, however, permitted, which could be useful for those seeking to do their yoga teacher training here. Make sure to check the requirements as they are quite stringent (insurance, money to cover possible health expenses, etc.).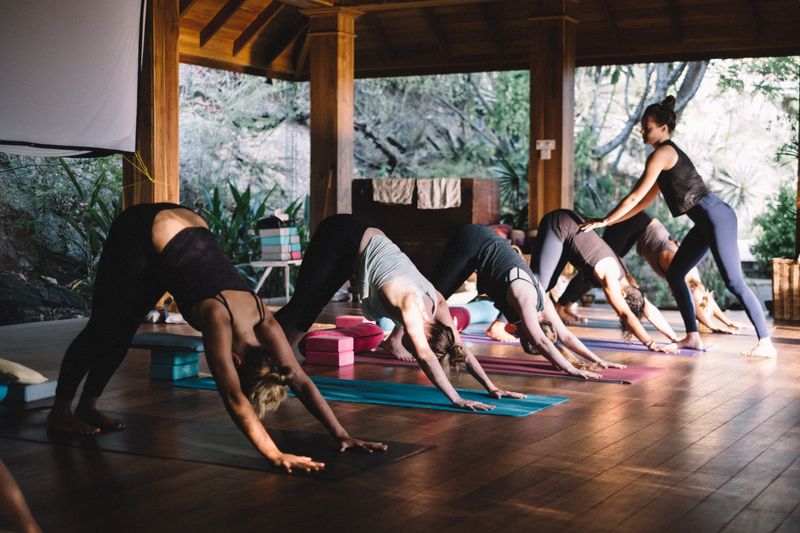 Photo credit: Wild Self Yoga
Located in the Pacific Ocean, Australia offers stunning desert landscapes, great beaches, and a laid-back atmosphere. The sunny and colorful country offers plenty of stunning natural places to check out and charming cities to explore.
Australians took to yoga about 50 years ago. It steadily gained popularity and is now considered a mainstream practice.
Choosing where to do your yoga teacher training comes down mostly to climate and scenery. And whether you'd prefer to be in a city or not.
Byron Bay, in New South Wales, is one of the best places to choose for your yoga teacher training in Australia. Focusing on natural and organic food to complement your yoga practice, you'll also be able to include music, dance, and acrobatics in your program. Plus, during your free time, you can learn to surf. And enjoy the stunning beaches.
The country's most popular travel destination, Queensland also features golden beaches and stunning surfing. Home to the Great Barrier Reef and gorgeous natural parks, it offers the chance to immerse in nature during your yoga teacher training.
International travel restrictions are in place to limit the spread of COVID-19. The borders are closed, with few exceptions that include residents (and immediate family members), as well as travelers who have been in New Zealand for the past 14 days.
Final Thoughts
With so many wonderful destinations around the world to choose from, we hope that our list of top 10 destinations for yoga teacher training enables you to narrow down your very own list of destinations to consider for your next training course.
That said, we understand that when it comes to travel, things (e.g: travel restrictions) are still quite unpredictable and are rapidly changing across the globe.
If you're unable to travel to your dream destination but would like to continue to enhance your yoga experience in the near future, you need not wait! Thanks to technology, you can now take your skills to a whole new level from the comfort of your home by joining an online yoga teacher training.
»Read more: 5 Great Reasons to Join an Online Yoga Teacher Training